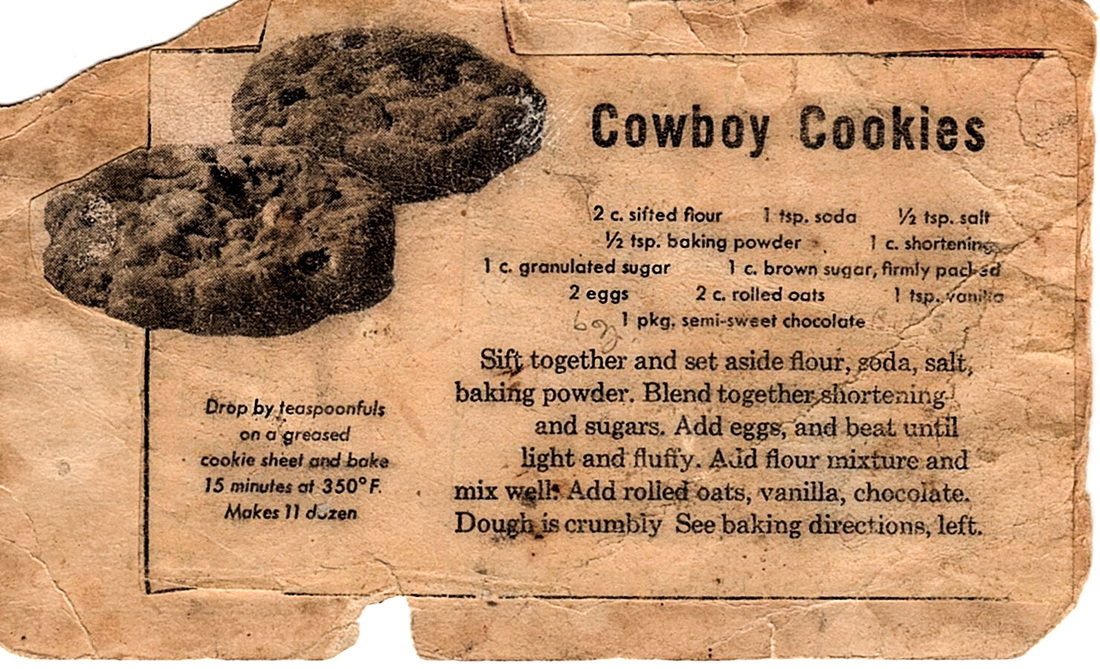 Cowboy cookies were a staple in my family home, a recipe found on a battered and stained card in the metal box and regularly used to make classroom treats, a dessert to pass at a Cub Scout meeting, or "just because." If you look up "Cowboy Cookies" on the Internet, you'll find several versions with oatmeal, nuts, coconut and/or cinnamon added, often served in large, even Texas-sized portions.

I reject such modern innovations.

Cowboy cookies are, at their finest, modestly-sized chocolate chip cookies with rolled oats added to the dough, made with shortening instead of butter or margarine. The oats have to be the old-fashioned whole rolled oats, not the quick cooking ones (which are chopped too small) or the instant variety (which has a lot of extra salt, is precooked and chopped even smaller). The cookies are scooped out by tablespoon, so you get a good number of them---about 10 dozen. However, I generally use a commercial cookie scoop which measures out 3/4 oz. of dough, so the recipe yields about 4 dozen.

| | |
| --- | --- |
| ​There is a lot of speculation as to why they are called cowboy cookies, and one of the aforementioned versions has even been at the center of a political struggle, but I have my own theory: kids like cowboys. These cookies first became popular when the cowboy movie or serial was a popular genre for kids (think of the Lone Ranger and Hopalong Cassidy) and dressing up as a cowboy or cowgirl among the most popular Halloween costumes. In fact, the back of the recipe card above features the image to the right. I have no idea who these children are---they were cut out of the magazine in which the recipe appeared---but this could easily be a picture of my older brother Marty and my younger sister Eileen, pigtails and all. | |
As we were cleaning out the house after my mother's death, we of course came across a thousand memories a day, many of them in the kitchen. On the top shelf of the kitchen cabinet we found the coffee can, decorated in classic 70's style, in which she kept her chocolate chips and coconut, clearly labeled "For Cookies". I used to sneak chocolate chips, but I should have known my mother would discover the culprit. One day I opened the canister to discover a note (addressing me by my baptismal name) that stated emphatically: "Michael, if you eat any more of these chocolate chips I will break your arm!" My siblings made sure I got the canister and its contents after the funeral. In addition to the Ghiradelli milk chocolate chips with which I made the batch of cowboy cookies pictured below, it held a note that read: "Dom, Enjoy the chocolate. No broken arms. --your sibs."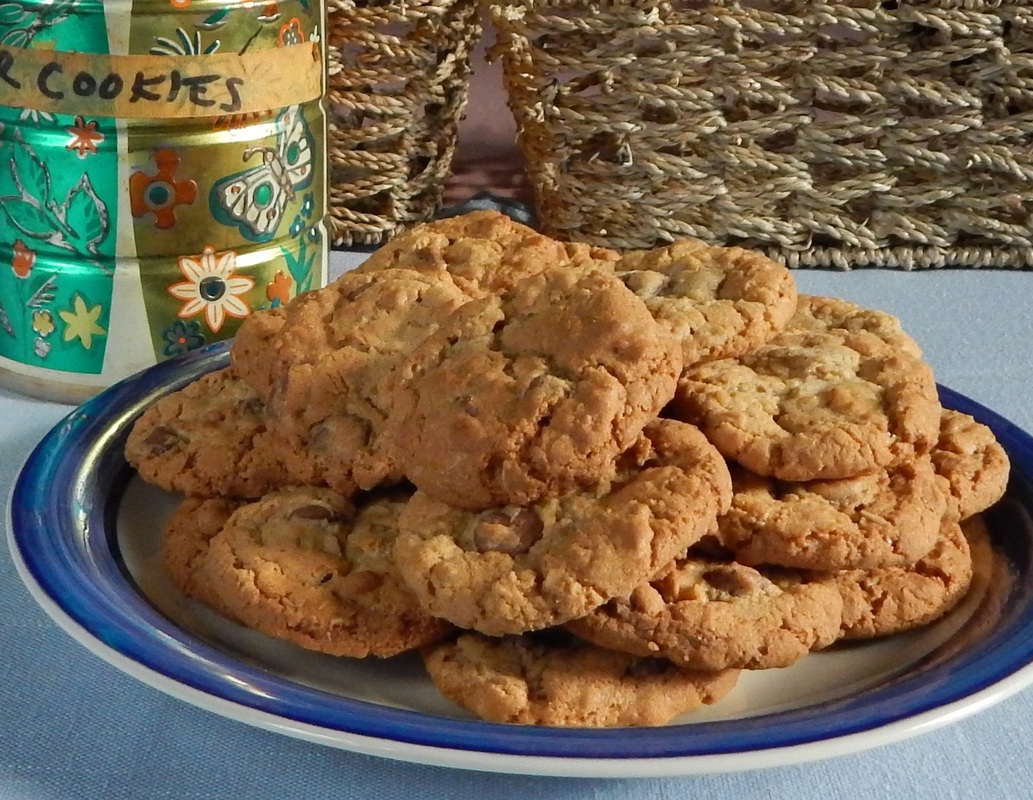 I'm definitely feeling the love. Bake these cookies and you will, too. Take the recipe from the card at the top of the page---it needs no improvement.