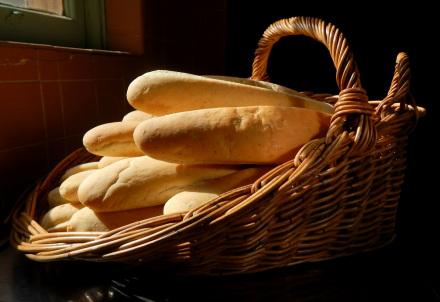 Last night was the annual picnic for the
Illinois Valley Herb Guild
to which I belong. I heard that beer brats were going to be served, as well as tortellini, so I thought---as usual!---we needed some homemade bread to go along with such alfresco delights. I chose to make skinny loaves of
Italian Onion Herb Bread
, a perennial favorite here at the abbey, which could be used to house the brats or to mop up bolognese sauce.
After these beauties were out of the oven, I realized two things: 1) I needed to make sweet hot mustard as well; and 2) I had never posted the recipe for Italian Onion Herb Bread on my recipes page. The first task required some experimentation with regular yellow mustard, St. Bede honey, crushed red pepper, horseradish and garlic, and after all the multiple tastings and tweakings, I couldn't tell you the recipe if I tried. A task for another day.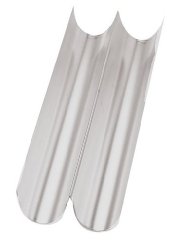 But the recipe for Italian Onion Herb Bread has been duly posted on my recipes page; for a shortcut, click
HERE
. If you make a dozen of these beauties for a bake sale, I guarantee you'll sell every loaf. I like to make them in "W" pans (usually called "French bread pans") but you can roll out long skinny loaves and bake them on a standard sheet tray as well. Mine look like this and are made by Fox Run, but there are lots of other shapes and sizes out there:
HERE
's a sampling. The ones pierced with holes are more expensive but create a more crisp crust.
God bless and happy baking!