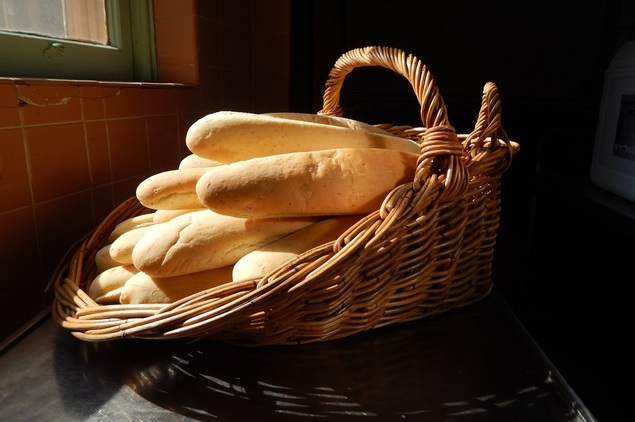 Italian Onion Herb Bread
2 pkg. active dry yeast
1 Tbs. brown sugar
2 tsp. salt
1 cup warm water (100 to 110 degrees)
1 cup milk
2 Tbs. vegetable oil (divided)
1/3 cup finely chopped onion
1 or 2 Tbs. Italian herb mix
5½ to 6 cups of all-purpose flour

Sauté onions in 1 tablespoon of the oil until translucent but not browned. Remove pan from heat and add remaining oil, herbs and milk---set aside to cool to lukewarm. Dissolve yeast in warm water with a pinch of the sugar. Let stand 10 minutes until foamy. In a large mixing bowl, combine milk, salt, and onion/herb mixture. Stir in yeast and remainder of sugar. Add 2 cups of flour and mix thoroughly. Add three more cups of flour, one cup at a time. About ¼ cup at a time, add enough of the remaining flour to make a moderately stiff dough. Turn out onto a lightly floured board and knead for 6 to 8 minutes, until dough is smooth, shiny and slightly sticky. Lightly oil the surface of the dough, and place in the rinsed bowl covered with a dish towel, in a warm place free from drafts. Let rise until doubled, about one hour.

Punch dough down and knead again for about one minute. Divide into 4 to 6 pieces and form into long loaves; place on lightly greased baking sheets. Let rise again, covered, for 30 to 45 minutes, until nearly doubled. Bake at 375 degrees F. for 20-25 minutes or until golden brown and loaves sound hollow when tapped. The interior temperature should be between 190 and 195 degrees F. Remove from pans and cool on wire racks.

Notes ---This bread sells very well at any bake sale, mainly because the aroma of the finished loaves is so irresistible. It's good on the side of any pasta dish, and is delicious sliced into rounds and served with salami and cheese. You can use standard loaf pans if you like (bake for 40 to 45 minutes), but I prefer to make the long Italian style loaves, either on a baking sheet or in the "w" pans designed specifically for long loaves.

---The first time you make this bread, use only 1 tablespoon of herb mix, and see if that's enough for your palate. If not, increase it to two.

---You can try other of herbs in this recipe as well. I made it once with a combination of lovage, savory and parsley, and the community devoured six large loaves at a single meal!

---If you are short on time, omit the onions and just warm the milk to 110 degrees before adding it to other ingredients along with the oil.


---