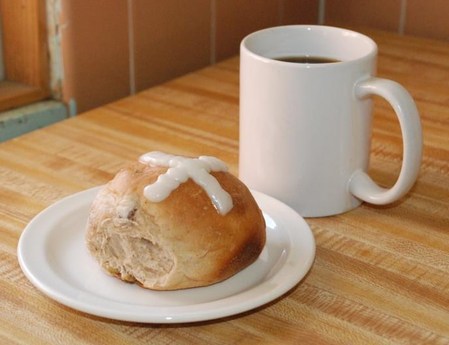 Although Hot Cross Buns are a traditional bread for Good Friday, I usually serve them three times between the beginning of Lent and the end of the Easter season on Pentecost Sunday. This year on Mardi Gras night I wasn't partying, I was making a triple batch of buns! One was served the next morning for Ash Wednesday, and two were double wrapped in plastic for the freezer. I pulled one out for the Solemnity of the Passing of St. Benedict, and the other will be served Good Friday itself.
I know that my fellow Breadheads are just as busy as I am, so I've adapted my previous recipe for Hot Cross Buns to use fast-rising yeast (like Fleischmann's RapidRise or Red Star QuickRise, also called instant yeast) so it only rises once. You can find the recipe
HERE
. This version uses a little whole wheat flour, but feel free to make them entirely with all-purpose flour.
I hope to be posting a few more recipes in the next few days for Holy Week and Easter. I've been working on the spring musical and the brethren have had a loooong Lent