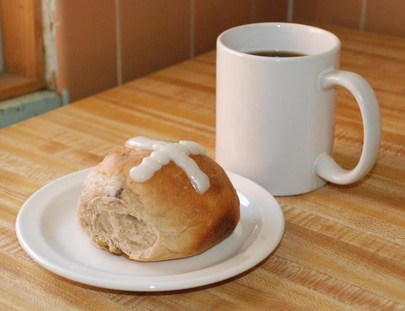 Hot Cross Buns
(Fast rising yeast method)




3½ to 4 cups all-purpose flour 1/4 cup sugar
½ cup whole wheat flour 1 1/4 tsp. salt
1 pkg. of fast rising yeast 1 cup milk
1 Tbs. cinnamon ½ cup of butter
1/4 tsp. nutmeg 2 beaten eggs
3/4 cup raisins

Put yeast, spices, salt and sugar in a mixing bowl with whole wheat flour and 2 cups of all-purpose flour and stir until thoroughly blended. Warm milk in a saucepan with butter over low heat until butter melts; cool mixture to just above lukewarm (120° to 130°). Add milk mixture to the dry ingredients and beat for 200 strokes. Add the eggs and mix until well blended. Stir in the raisins. About a half a cup at a time, add one more cup of white flour and mix until it is incorporated. Turn dough out onto a floured board and knead lightly adding enough of the remaining flour to make a soft dough. Knead for about five minutes, until the dough is smooth and elastic but still slightly sticky. Place back in the bowl, cover with a cloth and let rest for about 15 minutes.

Punch dough down and put onto a floured board; knead lightly to remove air bubbles. Divide into 12 pieces and form bun shapes, tucking sides under to avoid spreading. Place buns on a lightly greased cookie sheet, and cover with a towel to let rise for about 45 minutes to an hour. (You may also use a 9" x 13" pan). Preheat oven to 375° F. When buns have risen to nearly double in size, use a sharp knife or razor blade to mark a deep cross in each. Bake for 15 to 20 minutes. Remove the buns from the pan and place them on a wire rack. Allow to cool for 15 minutes, then brush on the glaze. Serve warm.

Glaze: 3/4 cup of powdered sugar, 2 Tbs. milk, 1 Tbs. melted butter, 1/4 tsp. vanilla. Beat until smooth. Use a pastry brush to apply the glaze to the still-warm buns. You may also add more powdered sugar to make a thicker frosting to pipe a cross on the top of each bun.



---