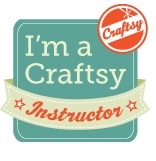 ​
The final installment of my adventures at Craftsy in Denver CO,
taping a six part online class in baking:
"Bake Your Best: Sweet Yeast Breads, Challah and More."
The final lesson of my Craftsy class is for Holiday Challah, which includes a variation on the Challah recipe featured in my most recent book
The Breadhead Bible.
The only change was that I used honey instead of sugar, and light olive oil instead of canola. These ingredients are more traditional and seemed appropriate for breads that are often served for Jewish holidays like Purim and Rosh Hashanah. Read a blog I wrote about it in 2012 and find a recipe
HERE
.
A crown braid makes an impressive addition to the holiday table, and when I teach comparative religions I make it when we study the feast of Purim, which commemorates the courage of Queen Esther. It's also traditional for Rosh Hashanah. I don't have a photo tutorial yet, but you can see from the finished product that it's a culinary tour de force.
My last recipe for the class is for Halfpipe Twist Babka. Again, I don't have a series of photos to show you, and I haven't found anything online with enough details to be helpful. I promise you, I'm not just being coy so you'll subscribe to my class! Once I get a decent set of photos, I'll share them. Here's what the finished product looks like.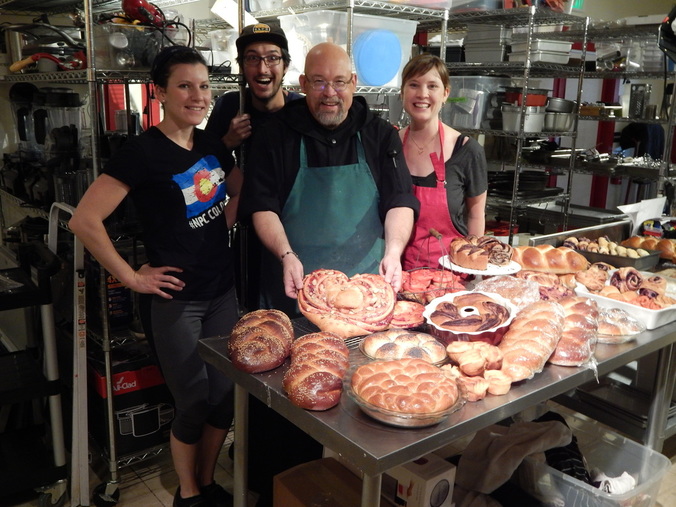 After we wrapped taping the lessons, we had to make some LTV's ("Little Tiny Videos") to be used for the title cards for each lesson, and then shoot all the still photography. The kitchen crew had been saving product all week, and had made some of their own based on my instruction, and we had a sizable collection of goodies.
​
​There was a Saint Bede Academy alumni gathering that evening at the Craftsy headquarters, so I went straight there from the studio. After shooting pictures of the stained glass in the Denver cathedral and then lunch at
Biker Jim's Gourmet Dogs
on Saturday with my cousin (
there's
a non-sequiter if ever I saw one), I flew back to Illinois.
Best. Week. Ever.
​
You'll be seeing more about my class and the Craftsy platform in future blogs, but for right now . . .