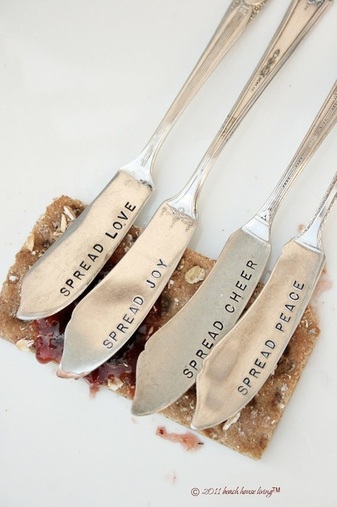 Pinterest has become one of my favorite forms of social media, and I came across this pin last year. What a clever use of mismatched butter knives! You could imagine the delight of your guests finding these on the holiday buffet table. Naturally this led me to start collecting vintage butter knives at flea markets and antique malls on my days off. It's surprising how cheap they are--rarely more than $5, unless they are particularly ornate and sometimes not even then. Then I ordered a set of metal stamps and a heavy metal bench plate off of Amazon---I already had several sizes and types of hammers backstage. Naturally I looked online for a tutorial: click
HERE
to see a particularly detailed one.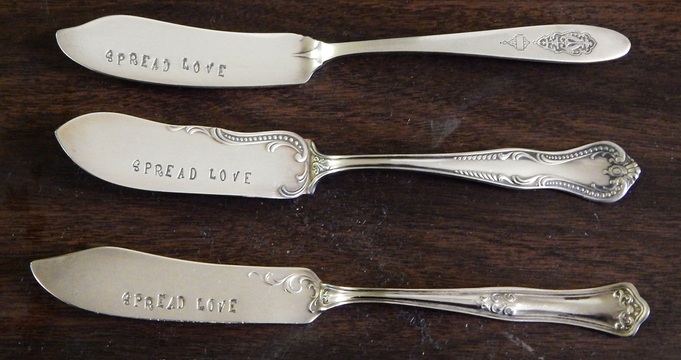 So here are some of the knives I've stamped recently. Obviously I need some practice at getting things in a perfect line, but the people who have received these from me haven't complained so far! I'm mostly making them for door prizes for my bread demos (check out the
Upcoming Events Page
page to find out if I'll be near you anytime soon) but have also sold a few at events where I was selling books and abbey products.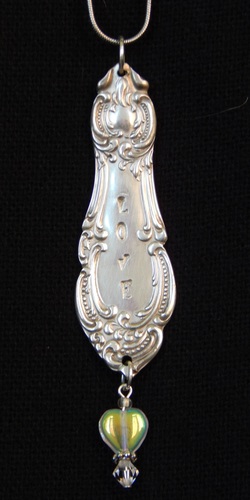 While I was exploring metal stamping on Pinterest I also came across some pins about spoon jewelry, and since I make rosaries and already have all the tools and equipment for that craft, I decided to try my hand at it. Not bad for an amateur's first try! I gave this pendant to a facebook friend as part of my Pay It Forward initiative, which I wrote about back in February (click
HERE
to read about it). I don't think I'll be doing as much of this kind of work as the butter spreaders, but it might inspire you to get out those mismatched spoons in the drawer and transform them. By the way, silver and silverplate work well for this sort of thing, but not stainless (too hard and slippery, I think).