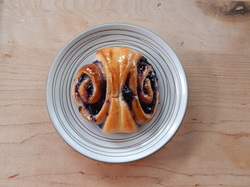 Recently I've been experimenting with breakfast breads and I remembered that it's been awhile since I made Breakfast Butterflies. Butterfly rolls are an old-fashioned recipe one never sees anymore in cookbooks but which needs to be revived. You can use just about any filling, from cinnamon sugar to pesto, but I like mine with blueberry or almond filling. (A quick aside--I highly recommend the
Solo brand Cake and Pastry Filling
, which comes in a great many flavors and is every bit as good as homemade, in my experience. They are a member of the
Home Baking Association
, which has sponsored some of my videos, but I've not been paid or otherwise compensated for this little plug!)
Butterfly rolls are not much much harder to make than cinnamon rolls, with just a couple of other steps. You can use your favorite roll dough and your favorite filling, so what's not to love? I find that they are plenty sweet without a powdered sugar icing, but if you want a nice finish on them, heat up some light corn syrup in the microwave for about 15 seconds and brush that over the tops. As you can see from the photo above, it gives them a lovely shiny appearance but without adding a lot of extra sugar that will obscure the taste of the filling.
So have I convinced you to make them? I hope so. Click
HERE
for the recipe page.