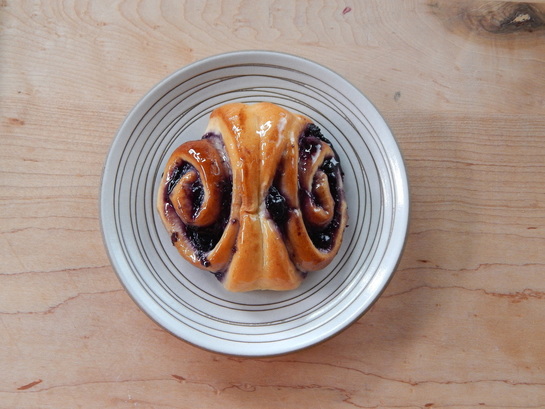 BREAKFAST BUTTERFLIES
Use ½ batch of
Best Ever Crescent Roll Dough
1 12 oz. can of Solo cake and pastry filling, any flavor
Punch down dough and knead lightly to expel larger air bubbles; divide dough into two portions. Cover with a clean, dry cloth and let rest 10 minutes to allow the gluten strands to relax so it will be easier to roll out.
On a lightly floured counter top, pat one portion of the dough into a fat rectangle and sprinkle lightly with flour. With a floured rolling pin, roll the portion of dough into 12" x 18" rectangle. Spread with filling. Starting from the long edge, roll dough up jelly-roll fashion and pinch seam to seal.
---
Using a sharp knife, cut the roll into 9 wedges . Turn each wedge short side up, and press the handle of wooden spoon across each—this presses the dough out to form the "wings". Place rolls about two inches apart on lightly greased a baking sheet. Cover the baking pan with a clean, dry cloth and let rise 30 to 45 minutes or until doubled.

Bake in a preheated 350 degree oven for 15 to 20 minutes or until lightly browned. Remove rolls from pan and cool on wire racks. Glaze with hot corn syrup or drizzle lightly with powdered sugar glaze.