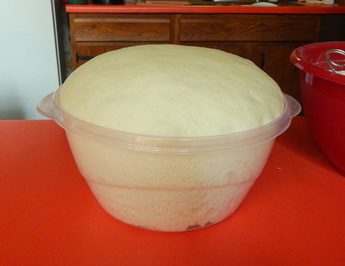 Day #3


Successful Failures



First thing after morning prayer and breakfast I mixed up another batch of coffee cake dough with a little less liquid. As you can see it rises up beautifully, which is in part because of the starch in the potatoes. But it also helps to be using really fresh yeast.

Whether it's fresh cake yeast, active dry, fast-rising or instant, every package of yeast will have an expiration date on it. Fresh cake yeast can be used only for about two weeks before it loses its potency, about 2 months if it's kept in the fridge. Yeast in dry form lasts two years from the time its packaged, longer if you put it in the fridge or freezer, although I buy it bulk and go through about a pound every month, so I don't really need to freeze mine! You can learn more
HERE
.
So when people tell me that they've had a recent bread failure, I always ask first if they checked the expiration date on their yeast package. Often they admit that they don't have any idea when they bought the yeast or how long it's been in the cabinet. By the way, baking powder and baking soda can also lose their raising power, especially when not stored properly, so check those boxes as well before you begin your next quick bread recipe. I bought two fresh containers myself for this week of testing.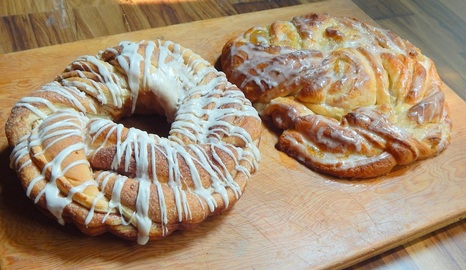 Although you might not be able to tell from the accompanying photos, yesterday was not a very successful day of baking. regarding the cook book anyway. These two (cinnamon babka on the left, fig swirl on the right) were created with a method I call a half-pipe twist. The dough is prepared as if for cinnamon rolls, but the long log is sliced lengthwise, and the two sections twisted together. The babka was made in a Bundt pan, the fig swirl on a baking sheet. The photos below of a twist made with almond filling should give an idea.
So what was the problem? The method works easily with a sticky filling like almond or raspberry pastry filling because the layers stay together, but cinnamon sugar is dry and fig preserves are runny, so trying the twist the strands together is a messy affair, to say the least, so much so that I couldn't get any photos of the process because I was too busy freaking out. The finished breads were beautiful and delicious, and I had the pleasure of giving the fig swirl to the staff at the Lake Thunderbird and the babka to the volunteer staff at a resale shop in Chillicothe which supports local charities. But I'm not sure if I want the new cookbook to include a recipe which will make a less experienced baker feel frustrated. If you have thoughts or suggestions, feel free to share them in the comments.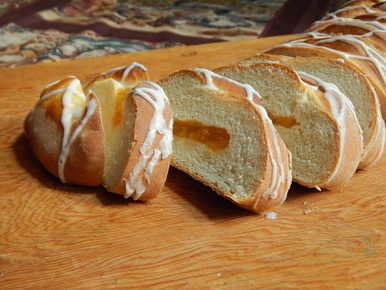 Half of my second batch of dough for the day was made into an apricot lattice braid, which turned out just fine. You might think that there isn't much filling in each slice, but I find that if I use more the result is too sweet even for my sugar-craving palate. I've presented the lattice braid in three cookbooks already and I may not want to include it a fourth time, so again this bake was not as productive for my current project. The directions can be found in a previous post, although for a savory version using apples, cheddar and ham. Check it out
HERE
, but please ignore how little I knew about food photography back then!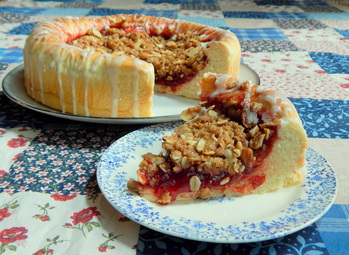 This last recipe, for a cherry almond crisp coffee cake, is a great disappointment. Not because of its appearance, which I must confess is extraordinary, nor for its taste, which is exquisite, but because its
not my recipe
and I can't include it in the new cookbook! I found the original on the website
www.betsybakes.com
, a site you should be checking into regularly. Her version was made as an apple crisp coffee cake, but my sister Angela loves cherries, so I created this adaptation. I wanted to have it in the new book, but professional courtesy (and copyright law!) demanded that I contact Betsy to secure permission. She was prompt and gracious in reply, but since she created the recipe as a commission for Red Star Yeast, she had to decline. The link above will take you to her original recipe. I hope my photo will inspire you to try either version.
In spite of all the frustrations, it was a successful day of baking. I learned a thing or two, produced beautiful breads and attractive photos, and for supper I had my first experience of making stir-fry completely from scratch (it needed more garlic). Tomorrow morning, I'll boiling more potatoes and mixing dough for my next baking adventures.
God bless and happy baking!