Missed a day of posting, because yesterday was not particularly productive from a recipe standpoint. The WiFi in the lake clubhouse was not working, and I don't know of any place in nearby Henry with free WiFi so I had to drive to Chillicothe (about 20 miles) to use the signal at MacDonald's. I discovered that their wireless wasn't working either. What to do? No-one seemed to know of another place in town with free WiFi.

Since I'm a monk, I tend to look at these things through a spiritual lens, so asked myself, "Do you suppose this setback is diabolical or providential?" I decided to assume the latter, and set off in search of a local coffee shop in the hopes that Chillicothe hipsters or 20-somethings had a place to gather and ignore each other as they played with their devices. (That sounds unnecessarily snarky, now that I reread it—electronic addiction is pretty widespread among "grown-ups, too!)

I remembered that Chilli had a small downtown area, so I set off in that direction, but took a wrong turn and ended up near the Marina, which confirmed that Divine Providence had orchestrated my predicament. I discovered a sizable patch that some civic minded person or group had planted with wildflowers: a patchwork of coreopsis, painted daisies, black-eyed Susans, cone flowers, and bachelor buttons. Since I love photography as much as baking, I parked the Tracker and got out my camera. The resulting images are nowhere near as lovely as the reality, but I share some of them nonetheless.

After a half hour of snapping away and patiently waiting for the red admiral butterflies to light on the cone flowers, I went off in search of electronica again, only to pass by a garage sale—irresistible to a bargain hunter like myself. In conversation with the home owner about what I was searching for (vintage kitchenware and interesting plates for food styling), I asked if there were someplace nearby I could access the internet, she said, "Oh, I have it here in the house—bring your computer in!" Divine Providence in the form of good old-fashioned Midwestern generosity.
In short order, I posted the previous day's blog and checked my messages, and left with five charming bread plates and a vintage potato peeler. I came dangerously close to buying an embroidered tablecloth as well, but monastic frugality prevented me—it was worth what she wanted, but still out of range of my meager vacation fund. I set off again for the cabin, after promising that if I came back into town, she'd get some coffee cake!
Back at the Lake I got to work on a recipe to share with the Lake Thunderbird monthly newsletter, The Chair Tree; the lake manager Chris asked if I'd share an article for the August issue. Since I'm always at the lake around the Fourth of July, I combined blueberries, raspberries and white chocolate morsels as the filling for a "Red, White and Blue" sour cream coffee cake. Perfect for a breakfast alfresco on the deck. Get the recipe
HERE
.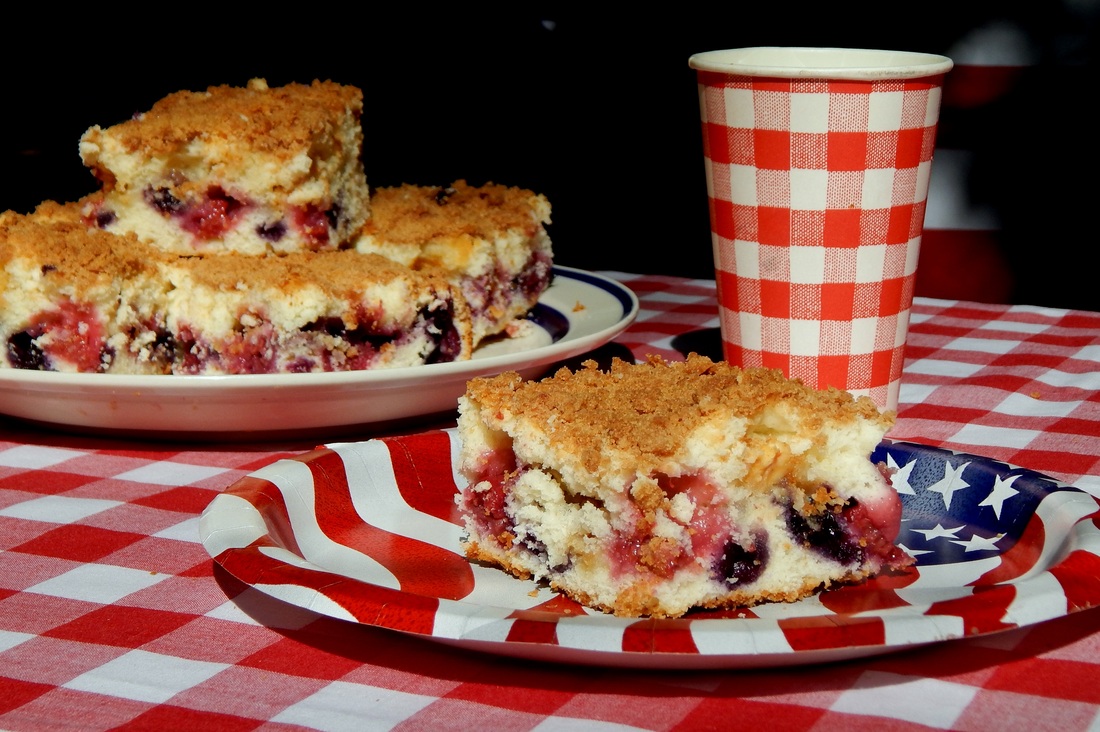 My experience yesterday was what I refer to as a "ding". As many Breadheads know, when I give a bread demo I like to give away door prizes, most of which are the result of my bargain hunting. For example, this week I found a like-new Springform pan for $3, a $60 Mac chef's knife for $2, and a vintage rolling pin for a buck! I give away cutting boards, bread knives, handmade beeswax candles and cookbooks, too. Everyone who comes to my demos gets a free raffle ticket. I set my kitchen timer for a random time under 10 minutes, and when the bell goes "ding!" I stop what I'm doing and draw a number for a prize.

So every once in awhile, God's bell goes off, and He draws out a name and gives that person a prize: an unexpected wrong turn that leads to a beautiful patch of flowers, a random encounter with kindness, a sunset or rainbow or shooting star that only you get to see. Not every setback is meant to test our patience; some of them are meant to increase our trust and our joy.

God bless and happy baking!