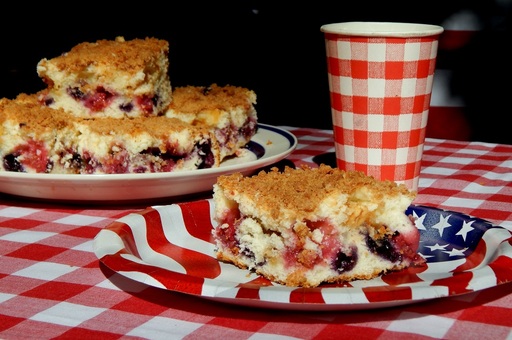 Lake Thunderbird All-American
Coffee Cake


Cake
1½ sticks butter
1½ cups of sugar
3 eggs
1 cup sour cream
1 ½ teaspoon vanilla extract
3 cups cake flour or all-purpose flour
1 ½ teaspoons baking powder
½ teaspoon baking soda
¼ teaspoon salt
½ pint fresh raspberries
½ pint fresh blueberries
½ cup white chocolate baking morsels

Prepare topping (see below) and set aside. Cream butter and sugar in mixer on high until light and fluffy. Blend in eggs and vanilla until smooth. Sift dry ingredients together. With the mixer on low speed, alternate adding the sour cream and the dry ingredients until all is blended. Grease a 9″ x 13″ pan. Layer half of the batter in the pan, then place the fruit and baking morsels evenly over the batter. Cover with remaining batter. Sprinkle prepared filling on top. Bake in a pre-heated oven at 350° F. for 60 minutes, or until a toothpick inserted in the center comes out clean. May be served warm or cold.

Topping
½ cup brown sugar
½ cup flour
1½ teaspoons ground cinnamon
½ stick cold butter, cut into small pieces

Mix brown sugar, flour and cinnamon in a separate bowl. Cut in butter with a pastry blender or mix with your hands until the texture resembles coarse crumbs.


---