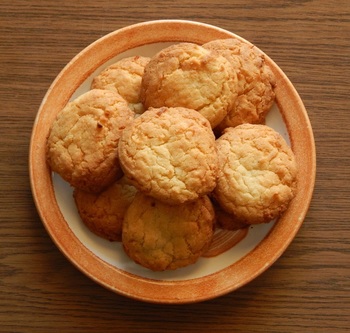 For many years, my mother gave each of her children and grandchildren the same birthday present: a batch of their favorite cookies.
My mother would ship them, carefully wrapped to avoid breakage, or would have them waiting on the dining room table when you came home.
Actually, "favorite" is a bit of a misnomer, since she would always ask in advance which recipe you wanted, and for most family members it might change from year to year: Cowboy Cookies one year, Starlight Mint Surprises the next, with Peanut Butter Blossoms thrown in one year to mix things up. Monks, however, are creatures of habit (pun intended) and so I consistently asked for my all-time favorite sweet treat: Banana Coconut Cookies.
The original recipe came from
Rawleigh
, a company that used to sell door-to-door in neighborhoods with products like home remedies, spices, extracts, and pudding mixes. I remember Mama's cupboard always had a cardboard canister of Rawleigh's Imitation Pie Filling and Dessert, and I think the recipe was on the label. The company is still around but alas, they no longer make the banana flavored dessert, although my mother bought several canisters before they became unavailable and used it judiciously for several years.
This year my mother was unable to make the cookies for me, because she was seriously ill for most of October and suffered a stroke on the morning of my birthday. She died a few days later---you can read her eulogy
HERE
. We served cookies at her wake and gave attendees one of her cookie cutters as a memento. My siblings and I have been scanning recipe cards and perusing cookie books for the last week. I'll be posting more of her favorite cookie recipes in the weeks and months ahead---but back to banana coconut.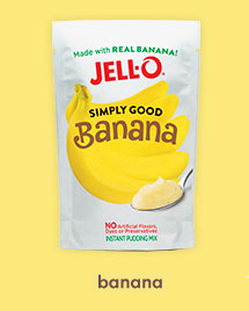 ​
​Although there was about a third of a canister left in Mama's cupboard, I knew that the Rawleigh product would need a viable long-term substitution. Jello brand Banana Cream Instant Pudding proved unsatisfactory----the cookies were too cakey, and didn't have enough banana flavor---but Jello just came out with a new line of "Simply Good" gelatin and pudding mixes with all-natural ingredients. I gave it a try and found the results very close indeed to the original, and my siblings agreed that it was a superior product. Give the recipe a try and let me know what you think. Better still, if you like the cookies, do what I did and let the
Jello
people know what you think, and encourage them to keep making the product. I'm buying a large supply, just in case.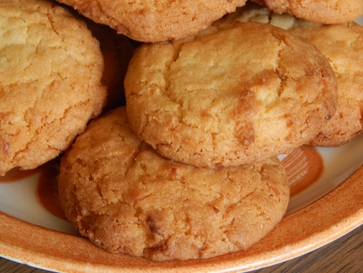 Banana Coconut Cookies
​


2½ cups all-purpose flour
1 cup (2 packages) Jello brand Simply Good Banana Pudding Mix
1 teaspoon baking powder
½ teaspoon baking soda
½ teaspoon salt
1 cup (2 sticks) margarine
1½ cups granulated sugar
2 eggs
¼ cup milk
1 teaspoon banana extract
1½ teaspoons vanilla extract
1 cup sweetened shredded coconut

In a medium size bowl, combine flour, pudding mix, baking powder, baking soda and salt, and whisk blend completely. In another bowl or stand mixer, cream together margarine and sugar until light and fluffy. Add eggs, milk, and extracts and beat until well blended. Add flour mixture and mix well. Stir in coconut until evenly distributed throughout dough. Wrap dough in waxed paper or plastic film and chill in refrigerator for at least two hours.

Preheat oven to 375° F. Drop balls of chilled dough the size of walnuts on lightly greased baking sheets (you can line the pans with parchment paper instead) and flatten balls slightly. Bake for 10 minutes or until browned. Yields about 4 dozen cookies.