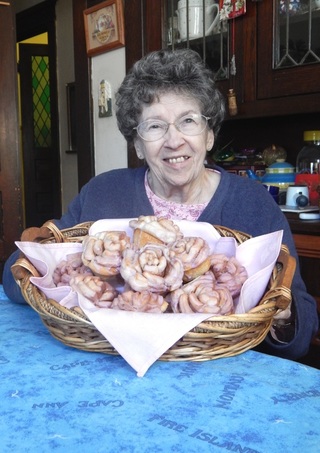 My dear mother passed away on October 29 at about 1:00 in the afternoon. You can find her obituary
HERE
.
​If you've read any of my cookbooks or seen my shows on PBS, you know that she had a huge influence on me and my baking. In the next few months I'll be posting bread blogs with plenty of memories---accompanied by recipes, of course! For right now, I thought I'd share my homily from her funeral, which was November 3. The readings were:
Proverbs 31:10-39
Romans 8:36-39
​Luke 2:15-20
Funeral Mass Homily
Mary A. Garramone
St. Bernard's Church, Peoria, IL
​November 3, 2016

Mom wanted things arranged in advance for her funeral, and she must have thought about it every now and then, because she sent me many versions over the years: a couple of songs, three or four responsorial psalms, several sets of readings. So I was surprised when, in our most recent conversation about the funeral, she left the choice of the first two readings and the psalm to us.

It should not difficult to imagine why we chose the first reading from Proverbs: it is an apt description of her as it was for Mary Otten, her dear friend of happy memory.

She gets up while it is still night
All those nursing shifts working 11 to 7, and getting up give us kids meds and cool iced tea when we were sick.

She sets about her work vigorously , her arms are strong for her tasks.
We called her "Toughie McNutt"

She opens her arms to the poor and extends her hands to the needy.
Like her mother, Grandma Tootsie, she was always worried about the hungry poor.

When it snows, she has no fear for her household; for all of them are doubly clothed. My mother was into the "layered look" long before it was fashionably, especially if we were going sledding.

She makes coverings for her bed, working with eager hands. She took great delight in being a quilter, and loved spending time with "The Mary Quilters" and other sewing groups.

She watches over the affairs of her household and does not eat the bread of idleness. My mother may not have ever eaten the bread of idleness, but she baked every OTHER kind of bread, and was a legendary cookie baker.

But it should be equally obvious why we chose the second reading: she did not allow anything to separate her from the love of God in Christ Jesus: no grief, no loneliness, no suffering, frustration or anxiety was ever powerful enough to make her lose her faith. Lose her temper, yes. Lose her customary cheerfulness and courtesy—perhaps, but only in extremis. Even to lose her courage, once or twice, towards the end. But never her faith.

My mother was devoted to the Blessed Mother and prayed the rosary often. She liked to hold the beads in the fingers but have the crucifix in her hand. When Mama was in her last hours she was not responding or even moving much, not even opening her eyes. My sister Eileen noticed her rubbing her fingers together. She put the beads between Mama's fingers, and my mother flipped her hand and expertly caught the cross in her palm, a gesture she'd done thousands of times.

Later in the night, my sister played hymns on her phone and sang to comfort my mother, including "Here I Am, Lord" one of my mom's favorites. When they got to the refrain, my mother, hours from death, paralyzed on one side and hardly responding otherwise, raised her arm straight up in the air, as if to say, "Here I am, Lord." An obedient and beloved daughter of God to the end.

As far as the gospel is concerned, I think we really should have had three, so I want to comment on two other familiar passages in addition to the one we heard. Many years ago she made out a pair of typed pages with readings, response and gospel chosen---the paper is yellowed now, but the gospel is still fresh: Jesus saying "Let the children come to me."

Let the children come to me in the kitchen—my favorite classroom, and I'll teach them to count cups of flour, and to tell time until the bread is done, to learn patience and cooperation and gratitude and to take turns on who gets to lick the beaters. Let them come with me to the library, my mother would say, and to the "New New Park" with the roundy-roundy slide, and to Dairy Queen for a fling because it's payday. Let the children come to me, said Mama, and I'll take them to the Heart of Illinois Fair and the Spring Bay Watermelon Festival and the Tremont Turkey Festival and anywhere they serve haystack onion rings, and then it's off to the Glen Oak band concert on the fourth of July and I'll lead a parade of children marching around the blanket, all of us waving sparklers and flags. That was my mother.

But another gospel verse comes to mind as well: John 15:13 in which Jesus says: "Greater love has no-one than this: to lay down one's life for one's friends." And she did give her life, a continuous stream of sacrifices for her children, her family, for her patients and her nurses, for anyone in need. The corporal and spiritual works of mercy were daily activities for her---she did not need a Year of Mercy to remind her. But we sometime forget the verse that follows and we ought not forget, in my mother's case: "Greater love has no-one than this: to lay down one's life for one's friends. You are my friends if you do as I command you." No matter what, she couldn't turn off the button that says "Mind your Mama"---it was always dialed up to ten. I was in the monastery for two whole years, going to church five times a day, before she stopped calling to remind me that December 8th is a holy day of obligation and I'd better go to mass. That was my mother.

But what of the reading she herself chose? An odd choice, perhaps, to use the gospel more suited for the Christmas mass at dawn. But the angels and the shepherds and the manger are not really the point. The point was the last verse: "And Mary kept all these things and pondered them in her heart."

My mother did not merely remember her experiences, good and bad---she treasured them, prayed about them, thought about them deeply, tried to understand their meaning. She pieced them together like a quilt as she pondered, found the pattern and the purpose, God's will hidden in everyday things. And as she pondered, mere knowledge was transformed into holy wisdom, speculation turned into spiritual insight, and in a kind of personal transubstantiation, living her own faith was turned into a powerful witness to the gospel. As a Eucharistic minister, my mother had the greatest love for the Blessed Sacrament, cherished it in the tabernacle, offered it with reverence, received it with deep devotion. The Word became flesh, and the flesh became bread, and my mother received the bread of life, and the Word became flesh in her, so she became a sign of the Love of God at work in the world.

So may we all.