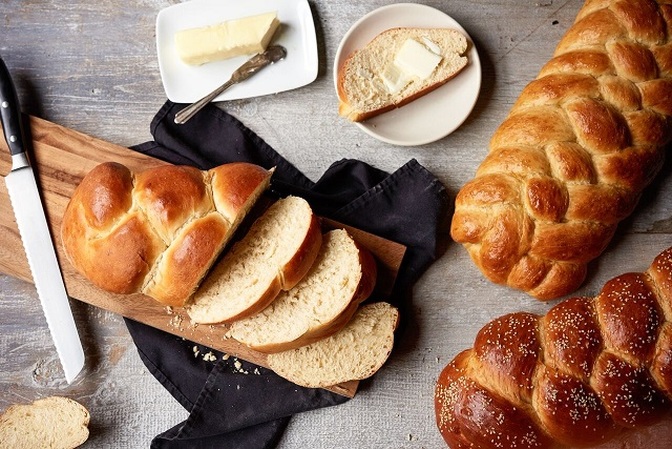 While preparing the lesson plans for my Craftsy Class, I discovered that there are a lot of different braiding patterns for challah out there, using anywhere from one to a dozen strands. I taught a particular version of the six strand braid for my class (in the upper right hand corner of the photo above), which uses a technique more like weaving than braiding. Fellow food blogger Tori Avey has a good photo tutorial
HERE
.
The other method for braiding is a little more complex and requires a bit more finesse. I made my first attempt today and I have to say, I'm pretty pleased with the results overall. The dough was not challah but a multigrain potato bread sweetened with honey that I made up without measuring much, so I can't offer a recipe. It's much softer than challah dough and doesn't hold its shape as well, so as you can see my strands were a bit uneven. I brushed the top of the loaf with a whole egg beaten with a little water, then sprinkled on some poppyseed.

You can find a useful video for learning this technique
HERE
except it doesn't show how to finish the braid off. You may need to experiment or consult a Jewish grandma! Some traditional bakers make the strands fatter in the middle and more tapers towards the ends, which results in a slightly different shape overall. And as soon as I try
that
, I'll post the results!