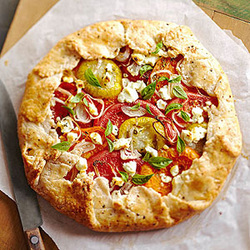 This beauty is a tomato galette, a simple form of tart originally made in France. A galette is also called a crostada if you're in Italy or a "flat pie" if you're on the Great Plains. The filling can be sweet or savory. In this case, it's a little of both, since the fresh heirloom tomatoes are so sweet, but the shallots, herbs and goat cheese make it more savory. The crust also has some cracked pepper in it, so it's got a little bite. The recipe is
HERE
.
Here's the one that I made today, which you can see looks quite different! The cheese got darker, in part because I used a mix of cream cheese and Parmesan instead of feta cheese, but my friend Jannelle used goat cheese and got the same result. I have a convection oven, so I didn't brush the crust with egg wash because I thought it might get too dark, but I think next time I may brush it on about halfway through the baking process.
The main reason I'm showing these two photos is so that Breadheads won't become discouraged when their loaves (or pies or rolls or whatever) don't look exactly like the picture in a cookbook or online. Sometimes cookbook photos have been doctored, or the food was not prepared exactly like the recipe describes, in order to get a better visual result. The size and type of your oven, the metal in your pans, the protein content of your flour, and yes, your level of expertise--these and many other factors can change the appearance of your loaves.

Ultimately, two things matter: the taste and texture of your breads, and the pleasure and satisfaction you get from making something with your own hands and sharing it with others. Glossy photos in cookbooks and Food Network shows with high production values may have improved the quality of our entertainment (and that's debatable!) but they can have the effect of lowering our confidence, in the same way that beauty magazines can make you feel ugly. My tomato galette smelled enticing, and the flavors were subtle and exquisite. No-one who had a slice had seen the Midwest Living photo, so they all remarked on how beautiful it looked, how flaky and tender the crust was, and how perfect the flavors went together. And sixteen minutes after it came out of the oven, there was nothing left but crumbs.

So, who cares how it was "supposed" to look?