In honor of National Doughnut Day, I got up the morning at 4:30 a.m. (surprisingly easy when you go to bed at a decent hour) to make old-fashioned cake doughnuts for the brethren. I felt a certain moral obligation to perform this service because I had mentioned the holiday in a homily earlier in the week.
Fortunately, I have the perfect equipment: a commercial deep fryer and Popeil's Donut Maker. As you can see from the photo, this little mechanism is vintage kitchen ware from the 40's. They came in red, yellow, and green plastic, and they were still making them in the 70's. I've seen a number of them at garage sales and antique malls and there are lots of them on e-Bay. They were recently revived by Ronco (I believe Ron Popeil is the son of the original manufacturer) and you can get one on Amazon for $5.95 right now (click
HERE
).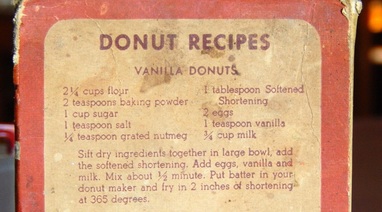 I used the original recipe from the box, except that I used canola oil instead of shortening, both for the recipe and for frying. I got great results, but here are some precautions: 1) Do not "scoop" the flour when you measure it. You'll compact the flour and end up using too much. Use the "spoon and level" method. 2) When you depress the level to dispense the batter, hold the device just above the hot oil so that the doughnut doesn't get distorted and you don't splash hot oil all over. 3) The batter will be a little thick and will come out of the dispenser rather slowly. Resist the temptation to add more milk to the batter, or you will risk having doughnuts that look like mutated DNA. This is a matter of personal experience.

You will be surprised at how good a fresh, homemade doughnut can be, even when unadorned by sugar or frosting. You will also notice that the doughnuts are much more modestly sized than most commercial doughnuts today. That's a good thing--you eat a couple of these and you feel like you've had a well-deserved treat rather than enduring a sense of dietary failure and bloated guilt. I doubt I'll be making doughnuts every week, but as a special treat they are well worth the effort.