Last year when I asked Breadheads on my
Facebook Fan Page
what area of baking I should explore this year, many people suggested homemade pasta, which isn't really about baking unless you're making lasagne or baked ziti. So I'm not sure where that's going to go. BUT a lot of people requested gluten free breads. I must confess that my success with GF baking has been limited to pumpkin scones with sweet cream cheese filling (click
HERE
for the recipe), but after attending the Homa Baking Association convention, I realized that a lot of companies are making GF products available. So I've been getting samples from some of these companies and will posting reviews from time to time. I hope we'll hear from other GF bakers in the comments section, too.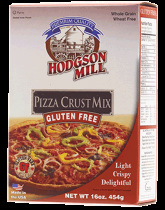 I started with pizza, in part because it's one of the things I know best, but also because so many GF bakers are searching fo a good crust recipe. I tried Hodgson Mills Gluten Free Pizza Crust Mix first (They sent me a case of free samples, but that's the whole of my reward!). My first surprise was how liquid the dough was--like a thick batter, really---so when you try it don't let that throw you off. The directions suggest dusting cornstarch on your hands to push the dough into shape on the greased pan, but I wonder if olive oil might be a better solution. In any case, the directions also have you covering the crusts (the box makes two 12-inchers) with plastic wrap, but I recommend that you give the wrap a good coating with non-stick cooking spray: my wrap stuck to the crusts a bit.
After rising, the crusts are par-baked for 10 minutes, then adorned with toppings and then go back in for another 10 to 15 minutes. I got good results by this method overall, but got better results when I par-baked in a pan and then finished the pie off on a pizza stone.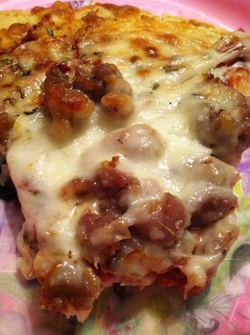 My GF friend Brittany and her husband John were the taste testers and gave the crust good reviews. I thought it wasn't quite as grainy as some GF breads can be, but that sort of added crunch wouldn't be out of place in a pizza crust anyway. Some people might want to add a little sugar, and I'm wondering if the crust would brown better if one used milk as the liquid---more excuses to test, yay! The process didn't take too much more time than traditional yeasted pizza dough, and the results are pretty good overall.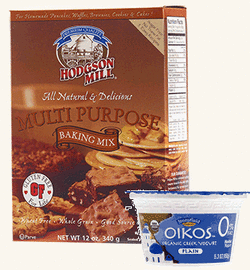 At the same time I was planning my GF baking lab, I ran across this link on Facebook for a 2-ingredient pizza dough: Greek yogurt and self-rising flour in equal portions. The recipe said you could use GF self-rising flour. Alert and food-savvy Breadheads will know that this is really a biscuit crust, and will not have the taste or texture of traditional pizza crust, GF or not, but it was so simple I had to try it. The easiest way to measure, by the way, is to empty the yogurt into your mixing bowl and use the same container to measure the self-rising flour. (I actually used a cup of Hodgsom Mills Multi-purpose Baking Mix, along with a half teasoon of salt and a scant teaspoon of baking powder.) A minute in the Kitchen Aid on high with the paddle, and I had dough. Because this is a quick bread, it doesn't require a first proof, so I spread the crust n the greased pan and popped in the over for a 10 minute parbake, added toppings and finished it off on the pizza stone. The center was still a little too soft for my taste, but I may have loaded on too many toppings. It was definitely a biscuit crust in flavor and texture, but the speed and convenience were appealing.


It seems likely to me that I might have even more success with mini-pizzas, just because they would cook faster and thereby produce a crisper crust. Too many toppings also seems to be a problem, so I'm not sure if I'll be able to create a GF deep dish like Lou's LaGrotto or Uno's. If GF Breadheads have had other successes, I'd love to hear from you. In the meantime, God bless and happy baking!