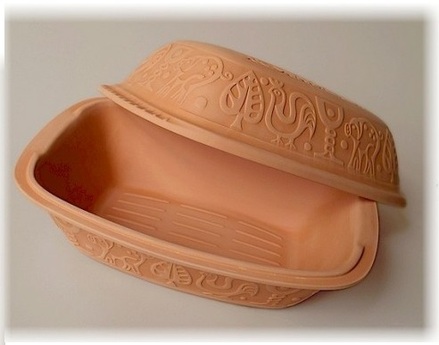 In my last post I wrote about having obtained a Romertopf terra cotta baking dish. These unglazed clay vessels are the descendants of the first clay cooking pots developed millennia ago. A covered clay dish can be used to produce moist, flavorful meats and exquisite steamed vegetables, as well as lofty loaves of bread with a delicate, crisp crust.
These baking vessels are pricey--the one pictured above (which can hold a small turkey) sells for around $80. I received mine as a gift from a friend who had located it in a resale shop for a fraction of that price. The instructions call for you to soak the pot in water for 20 minutes prior to use. The dough is allowed to rise to nearly doubled, the soaked top is put on, and then the whole business goes into a
cold
oven. The oven is then turned to 475 degrees F. and the bread is baked 45 minutes covered, then five or ten minutes uncovered so the top can brown. The steam in the enclosed vessel is what produces the crisp crust.
I discovered that the pot I have is really too large to make a single loaf of bread in it. But I got good results overall and the crust really was exquisite. Serendipitously, I found a smaller version by a different manufacturer in our local resale shop
Lily Pads
(one that supports providing shelter for the homeless). It was still $15, but I was happy to support the cause for the chance to do some more experimentation.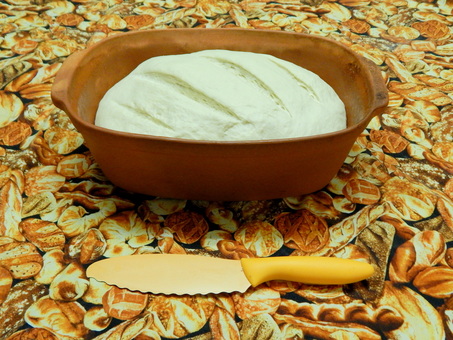 A recipe for two loaves of bread fit the vessel perfectly, and I kept things simple: water, yeast, flour, salt, a little honey, a splash of vegetable oil. The instructions said to slash the loaf before baking, which can be a dicey operation if you don't have a sharp knife. I find I get great results with an inexpensive sandwich knife with a wavy blade.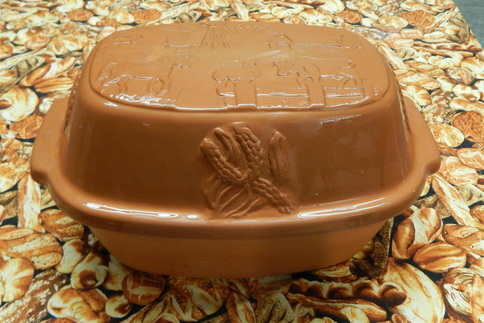 Here it is about to go in the oven, soaking wet. Because I have a con-vection oven, I reduced the temp to 425 degrees, but kept it in the oven the full 45 minutes before removing the lid. As the instruction booklet predicted, the loaf had hardly browned at all (except on the front edge--I think I should have rotated the pot halfway through), so I left it uncovered for another ten minutes before removing it from the oven.
Here is the highly satisfying result. The slashes opened up beautifully, the crust was crisp but not overly hard, and the interior of the loaf was soft with a tender crumb. The loaf is still quite large compared to your average grocery store sandwich loaf, but based on how much was devoured at breakfast this morning, I don't think the brethren had any serious problems with that! I was glad to have an extra long bread knife to cut across such a wide loaf.


One other problem I discovered has to do with bio-chemistry. When dough rises in a too-warm environment, the yeast and its accompanying bacteria produce enzymes that are slightly acrid, or at least odd tasting. When you put the terra cotta baker with its dough in a cold oven and let it heat gradually, you create conditions ideal for producing these "off" flavors. (A slow rise in a cool environment, by contrast, produces better flavor and texture.) I noticed the odd aroma/flavor when I sliced into the bread this morning. Toasting helped alleviate this problem, but if you make a PBJ or other sandwich you may notice the difference. Putting a soaking wet, unglazed vessel into a hot oven, however, might be a recipe for a small explosion, or at least a cracked lid, but I suspect I'll give it a try nonetheless.

I'm sure there will be plenty of other terra cotta experiments to come, which I promise to share in this Bread Blog. Does anyone else use a terra cotta making dish or cloche of some kind? I'd love to hear from you. In the meantime, God bless and happy baking!