This is the 1963 edition of the
Better Homes and Gardens Bread Cook Book
and if you ever see it at a flea market or rummage sale, BUY IT! It's one of my favorite old-time recipe books, and it has clear instructions and photos for shaping a number of old-fashioned breads and coffee cakes that you don't see much anymore. Among them is an Apricot Daisy Coffee Cake that isn't terribly complex to make, but looks outstanding on the breakfast table. You can use any basic sweet dough, including my Best Ever Crescent Roll Dough (click
HERE
for the recipe). For the one I made recently, I used a dinner roll dough recipe but substituted half and half for the liquid (mainly because we had a couple of quarts that were going to expire in four days, so I wanted to use it up!)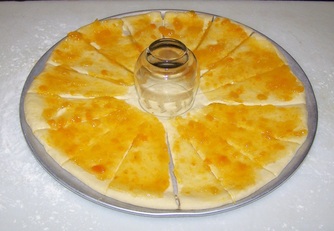 You roll the dough out into a 14" circle and place it on a metal pizza pan lightly coated with cooking spray. Place a glass in the center, and spread with apricot pastry filling or preserves (you can use any filling, really). Then take a pizza cutter and divide the dough into 16 even "spokes"---the glass keeps you from cutting all the way through, so that an open section is left in the middle.
Remove the glass, then fold one spoke on top of the one next to it, until you have 8 double decker spokes. Make sure you fold them all in the same direction. Try not to let too much filling drip onto the pan.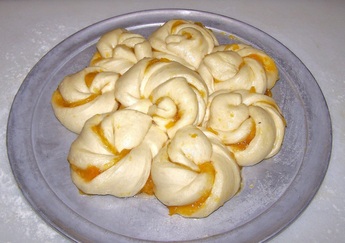 Twist each double decker spoke three or four times, and then curl it into spiral or snail shape. The first one goes in the open center space where the glass had been---do this first so you have a little more room to work with the others. The remaining seven are arranged evenly around the center. Cover and let rise for 30 minutes.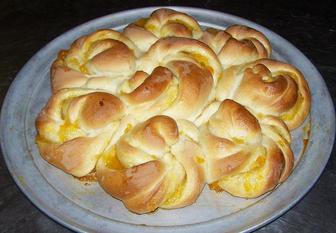 Here it is, fresh out of the oven. I baked it for 30 minutes at 350 degrees. Because the dough I used had a lot of sugar and eggs, about 15 minutes into the baking process I covered it loosely with aluminum foil so the top wouldn't brown too much. You should let it cool slightly before trying to transfer it to a wire rack to cool completely. Or just let it cool to lukewarm on the pan, put on the frosting and serve it on the same pan.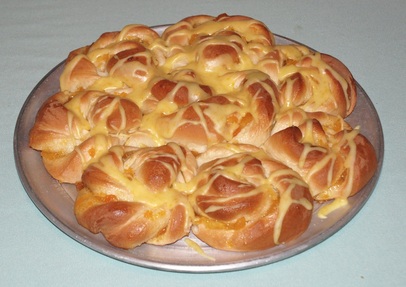 You can use plain glaze or frosting, but I like to add another layer of flavor by using the zest and juice of a medium orange with a dash of almond extract, whisked into about 1 1/2 cups of powdered sugar. I mixed it in a Pyrex measuring cup so I could microwave it for 30 seconds. Heating the glaze until it just boils helps to cut the "raw sugar" taste. If you want a brush-on glaze, use it immediately; otherwise, let it cool about 5 minutes before pouring it in swirls over the coffee cake.

I've made this with other fillings and toppings: cinnamon sugar with hazelnut caramel glaze; almond pastry filling with a light glaze and toasted sliced almonds; mixed berry filling with a cream cheese frosting. Don't be afraid to experiment with the filling, the frosting, and the dough---which is a good enough rule for any recipe!