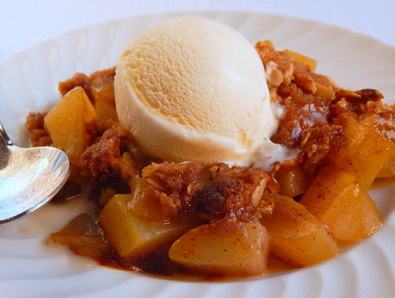 Finally got around to making the zucchini crisp. In a previous posted I noted that I found the recipe in
Sauce
magazine, a St. Louis publication which focuses on all thing culinary in the metro area. It's distributed free in restaurants and retailers all over the city, and I always pick up a copy when I'm in the Lou.
I like the idea of zucchini crisp because there's always too much of that vegetable in any neighborhood with at least one garden. We didn't grow any this year, but when I posted a request on Facebook I got an abundant supply. For my first attempt I followed the recipe exactly. . .
(Momentary aside)I'm annoyed by people who post reviews of recipes on websites, and it's clear from their description of all their personal adaptations that they never made the recipe at all! I read the comments for a recipe for zucchini waffles today, and the reviewer had used bananas instead of zucchini, added chocolate chips, and made the batter into pancakes. Seriously?
. . . but I thought it turned out a bit bland. So I tried it again and added 2 tablespoons of apple cider vinegar and a splash of balsamic. BOOOM! The flavor really popped with that addition of tart flavors, and the brethren devoured the whole pan---a double batch---in about 24 hours. Click
HERE
for a link to
Sauce
's original recipes page (with several savory recipes for zucchini as well) and do some of your own experimenting.
God bless and happy baking!