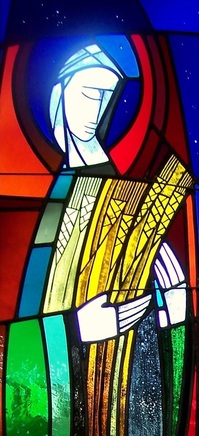 Tonight I'm baking multigrain bread to take as door prizes to my demo at Sullivan, Illinois on Saturday. I have a friend who is a wheat dealer, and every year he gives me about 25 pounds of wheat kernels to turn into flour (yes, I am such a Breadhead that I actually own a table top flour mill!). All he asks for in return is four loaves of whole wheat bread, which I am happy to give him in return for the opportunity to have freshly-ground whole wheat flour for baking.
Unfortunately, the wheat he provides isn't completely cleaned. It still has a lot of chaff mixed in, as well as some tiny black seeds from some common weed. (I've been tempted to plant some of these weed seeds, just to see what they are, but I'm afraid of introducing some invasive species that will take over our bean fields!) So I have to separate the wheat from the chaff, and since I am a "Bread Flintstone" who doesn't do much high-tech, I winnow the wheat the old-fashion way: I wait for the right kind of breeze, and pour the wheat from one vessel to another and let the wind do the work.
"Winnow not in every wind," said Jesus ben Sirach (Sirach 5:11), and he was right. If the breeze is too light, the chaff just falls into the lower bucket; if it is too strong, it blows away some of the wheat kernels with the chaff. This morning I discovered that the breeze was a bit erratic, but for the most part was the perfect strength to winnow the wheat. In no time had enough kernels to grind about 18 cups of wheat flour. I added rolled oats, corn meal, flaxseed meal and freshly ground brown rice and barley, so I'm ready to mix some dough this evening. More later.
You may want to know more about threshing and winnowing wheat. For an excellent paper from the Utah State Extension Office on home storage of wheat, click
here
. For photos of the Rollag MN Threshing Festival with steam powered threshers, click
here
. For an event right here in Illinois, consider attending Jordbruksdagarna (Agriculture Days) September 29 and 30 in Bishop Hill; click
here
for more info about this historic town and its Swedish heritage. They have an EXCELLENT bakery there---worth the trip by itself:
here
is where you'll find pictures and descriptions of their breads.