I read a lot of cookbooks, watch a lot of food TV and surf the Internet for recipes all the time. Every once in awhile I find a reference to a dish that I have never heard of before, let alone prepared it. This used to happen regularly when I first started watching
Chopped
and
Top Chef,
but after
a few dozen episodes you get used to terms like
seviche, fattoush
and
sabayon.
But I was caught off guard when Br. Nathaniel asked me if I'd ever made a
clafoutis
.
I thought he was joking---the word sounds like a Dr. Seuss musical instrument, or some kind of STD. I said I'd never even heard of clafoutis before. "Really?" he replied, in a tone that made me feel as though I had just admitted I had never seen a radish---or maybe that was just my own sensitivity. At any rate, since my iPad was close at hand, I did a quick search and soon entered the world of French custard fruit tarts.
The word "clafoutis" (usually spelled without the final "s" in English) comes from a French dialect word
clafir
, meaning "to fill up." I suspect that comes from the ridiculously easy method of preparation: you line a baking dish with fresh fruit, fill the dish with a eggy batter, and put it in a hot oven. As with most ethnic dishes, there are endless variations on the proportion of flour to liquid, the number of eggs involved, and just how much sugar is required. It's traditionally made with cherries (with the pits left in, no less!) but I have a suspicion I'll be experimenting with all sorts of fruit before this culinary excursion is over.
(I freely admit that a clafoutis is not by any stretch of imagination to be considered "bread" so strict Breadheads should feel free to tune out for awhile. Maybe you could check out my
Pinterest boards
.)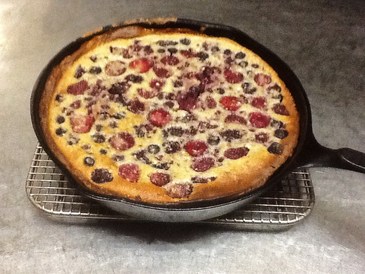 Here's my first attempt, which I made in a 10" cast iron skillet. The recipe called for a 9" skillet, but the amount of batter the recipe yielded would have never fit in that size pan. The instructions said to heat the oven to 425 degrees, but the edges seemed to be browning too quickly, so I dialed it back to 375 degrees. I don't think the custard was sweet enough, and I didn't like having to use a blender as per the instructions (one more thing to wash) so I think I want to do some tweaking.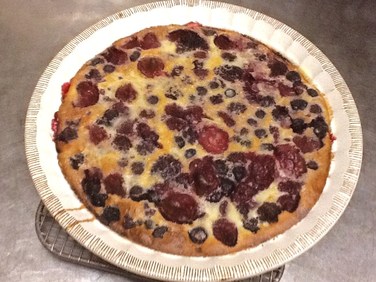 Here's a second version, one that had a higher "fruit to batter" ratio and baked nicely in a 12" ceramic pie plate, although one could increased the volume of the batter slightly. Both of these clafoutis were made with mixed berries which we had leftover from supper. Blueberries, raspberries and even peaches could also be used.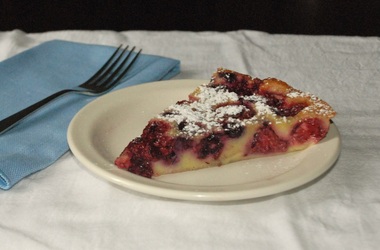 Clafoutis can be served warm or cold (there are ardent proponents of both), usually dusted with confectioner's sugar. If served warm, it is often accompanied by whipped cream, crème fraîche, ice cream or even plain yogurt.
So why no recipe? I'm still not entirely satisfied with the results, and with only two attempts I can hardly be considered a trustworthy instructor. Based on the fact that after monk breakfast the lone piece pictured above remained, I suspect my confreres will be happy to serve as test tasters.