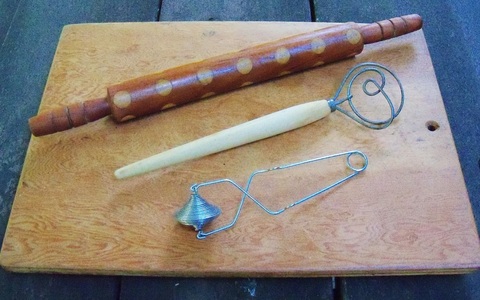 After a demo I'm often asked about the tools I use, and some Breadheads who attended my Eureka demo asked about them. The polka dot rolling pin was made by my father, using cherry wood with maple inserts. It's a little bit wider than standard rolling pins, and not quite so big around. It took me awhile to get used to a pin without a center rod---one solid piece of wood---but now I prefer it, in part because it allows you to push as hard as you want on stiffer doughs. I keep trying to convince my brother to take up the mantle and start turning these on the lathe he inherited from dad's shop--we'll see.
The center tool is a
brotpisker
or Danish dough whisk. It's the best utensil around for mixing bread dough, muffin batter, cookie dough, cornbread, waffles---any time liquid and flour meet in a bowl. My mom got my dough whisk for a quarter at a rummage sale in 1979, and I've used it to mix up thousands of batches of bread dough. They're available online from several sources, including
King Arthur Flour
,
Amazon
, and
Sur La Table
. They come in two sizes (14" and 11") but I'd just get the larger one, unless you never mix anything but pancakes.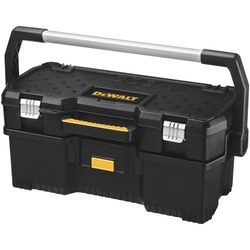 The other useful utensil in my toolbox (and yes, I keep my baking gadgets in a DeWalt toolbox) is a flour wand (see photo above): a tool made of wire with a squeeze handle and a spring coil on the end. Also called a Flour duster, it was first developed in Victorian times when pie making become especially popular. When the handle is squeezed, the spring opens up, which is then swirled in the flour container. Releasing the handle traps the flour in the coil, which is then shaken gently to sprinkle just the right amount flour onto the counter top. If you've ever had both hands covered in raw pie crust or sticky bread dough and have been reluctant to reach into the flour canister, you'll understand why this tool is particularly valuable. They are available in some specialty shops and on several websites online, including the ones mentioned above. However, I recommend that you pay a little more and buy one from Best Manufacturing of Portland, Oregon. There are cheaper models out there, but theirs is far better-made and long-lasting. The price ranges from $10 to $17 on
Amazon
, so you can put it on a wishlist and wait for the price to go down.
Can you be successful at baking without these specialized tools? Sure---thousands of generations of bakers did just fine with wooden spoons and a wood burning stove. But they can make your baking experience easier and more enjoyable, and the pleasure that comes from using a well-made tool makes me want to bake more often, and none of my brother monks ever complain about that!