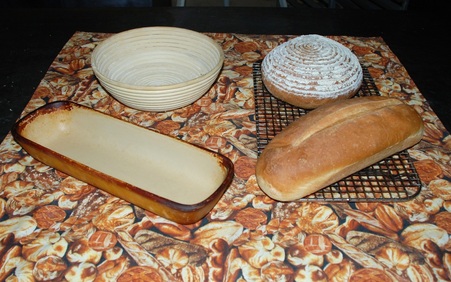 When people think of "bread pans" it's usually an image of metal retangular loaf pans that comes to mind. But there are plenty of lovely alternatives to the classic sandwich loaf shape, and I made a couple of them this Thursday using leftover pizza dough.
(I would like to insert here a parenthetical comment about the pizza dough that night---I added a bit of gluten powder to the dough, used a bit less flour than the recipe called for, and kneaded it longer than usual. The dough was mixed with cold ingredients and left to rise slowly from 4 p.m. until 8 p.m. The results were outstanding. The dough was both crisp on the bottom and chewy on the outer crust, with a slight char on the bubbly parts. Hope I can reproduce those results!)
I deliberately made extra dough so I could have a couple of loaves of bread as well, one for monk breakfast and one as a thank-you for a friend who had done me a favor. The loaf with the flour swirl on top was produced using the round basket, known as a
banneton
in France and Belgium and a
brotform
in Germany. The inside of the basket is genrously dusted with flour and the ball of dough is placed in it for its final rise or proof. This basket can hold up to 2 1/2 pounds of dough, although this loaf was only 1 pound, 10 oz. After the loaf has nearly doubled in volume and the oven preheated with a baking stone, the loaf is tipped out directly onto the stone. In an alternative method (which I prefer) a wooden peel or paddle is placed over the basket, the basket and peel flipped over and then the basket removed. The peel is then used to ease the loaf onto the baking stone. In either method, you have to take care not to handle the loaf roughly or it will deflate. As you can see, it produces a stylish loaf that looks like something you'd find in a shop in Provence!
The other loaf was baked in the stoneware loaf "pan" pictured at the bottom left of the photo. It's made of unglazed stoneware, and once it's been used a few times it becomes utterly non-stick and produces a lovely crust because it distributes heat so evenly and helps pull off moisture from the loaf. The pan is set directly onto the oven rack, and like a pizza stone. should never be washed with soap, only wiped off with a damps cloth. Stoneware pans can be pricey, but I think they're worth the invstment for a true Breadhead.
Pampered Chef
has a line of them in a variety of shapes, as does
The Baker's Catalog
(King Arthur Flour). However, I've not seen this longer pan in recent catalogues.