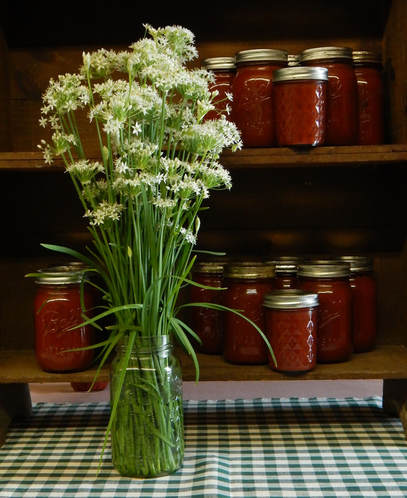 Br. Luke has been bringing in tubs of tomatoes from the abbey garden, so I decided it was time to put up my yearly supply of pizza sauce. Although I have a recipe for "
Big Ol' Batch of Pizza Sauce
" I let the herb garden decide on the seasonings for me. As you can see, it's a banner year for garlic chives, and since they tend to self-sow rather vigorously it seemed best to harvest the abundance before they had a chance to take over a portion of the lawn. The other standout in the herb garden this year is the oregano. I already had one variety of it growing in abundance, and I planted two more varieties after our herb guild plant sale in May. So garlic chives and oregano were the primary flavorings, along with seasoned salt and a bit of thyme. The tomatoes were so sweet that I had to add red wine vinegar to give the sauce enough acidity. We had plenty of mason jars to choose from and the kitchen's giant steam kettle, normally used for big batches of spaghetti, makes a sizable container for the hot water bath. I'm blessed to live in a monastery with a long history of food preservation---we've got all the equipment!
I also had plenty of practical, professional know-how, thanks to a recent program from Illinois Extension at my herb guild's monthly meeting. The demonstrator showed us how to can peach preserves, but gave us plenty of resources for other kinds of canning. Find out more:
web.extension.illinois.edu/foodpreservation/tomatoes.cfm
I learned a lot about canning and freezing produce by exploring all the resources they have available.
Unfortunately, I didn't use a proper jar on one of the pints of sauce and it didn't seal, so I had to put it in the fridge to use as soon as possible. Oh, darn.