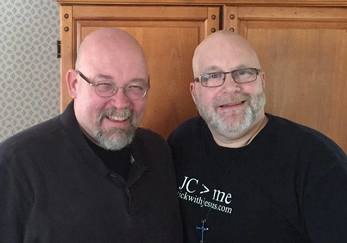 Last week I gave a reflection on the multiplication of the loaves at a Methodist parish in Aledo, IL, where my college buddy Mark Harris is pastor. We refer to each other as "brothers from another mother" since we look so much alike! We became fast friends as freshman theatre majors at Illinois Wesleyan and we're closer than ever now that we can talk shop about theatre, music AND ministry--plus he's a Cardinals fan! I gave my talk "What kind of bread shall we be?" which seems to have been a big hit. They began the evening with a free chicken dinner, which included the best bread pudding I've ever eaten, and I mean that without any exaggeration. I'll see if I can get a recipe from the man who made it, but I'm not even sure I want one. I'd rather have an excuse to visit my friend again.

I'm bringing this up because I want my readers to know that although I do a lot of bread demos and lectures at Catholic parishes around Illinois, I'm just as comfortable speaking to Methodist and Lutheran parishes, civic groups and women's clubs. I know of several Lutheran parishes that have used my book Bake and Be Blessed for a sermon series or for staff formation. One of the first fan letters I ever received for my PBS show Breaking Bread was from the leader of a charismatic prayer group who said that they were "lifting you up to the Lord" at their weekly meeting. Bread has a universal appeal.

It all boils down to this: I want to multiply the loaves. I want the number of people who bake for their families to increase every day, to multiply the confidence and creativity of as many people as I can, in books and demos and posts online, through Pinterest and Facebook and Twitter and Craftsy and whatever the next big thing is. And whether I feed someone's hunger for cinnamon rolls or for companionship, for recipes or for reasons to bake, I'd like to believe that I'm doing the work of my Master.