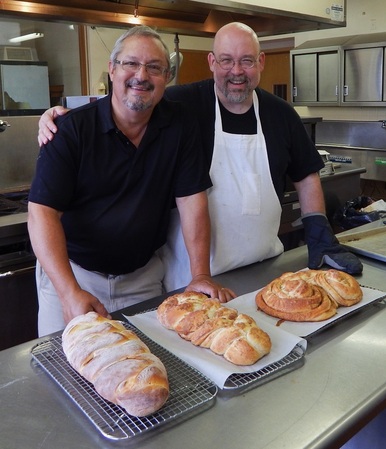 On a recent trip to St. Louis I stayed (as I usually do) with the Sisters of Loretto in Webster Groves. They have a small guest room just off the lobby, only a few steps away from the chapel. I celebrate Mass for them while I'm there, and generally I get a chance to bake a few treats for them as well. This trip their kitchen manager John Maggio asked for a bread lesson, specifically on how to shape coffee cakes and breakfast breads. I taught him the lattice braid, and we made one using strawberry filling and the other with peach.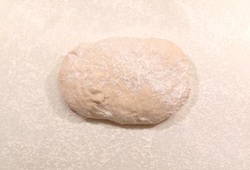 I also made up a shape on the spot. I had intended to make a half-pipe twist (see below) but the dough was really soft and so I had to improvise. Instead, I developed a new way to shape the dough which I am now calling "The Loretto Swirl"! You start with about a pound and a half of soft roll dough.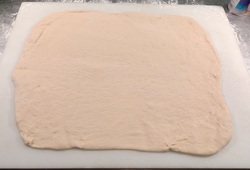 Roll the dough out to about 16" x 20". If it is too elastic and keeps springing back, cover it with a dry towel for 10 or 15 minutes, to allow the gluten strands to relax, and it will be a lot more cooperative. We all feel better after a short nap!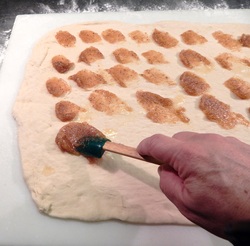 Spread the filling by placing small dabs of it all over the dough as shown here. This method facilitates spreading the filling evenly---much easier than trying to spread a giant glob from the middle all the way to the edges. I used a single 12 oz. can of Solo Almond Cake and Pastry Filling. You can use other flavors of pastry filling or pie filling, sweetened cream cheese or just use a mixture of granulated sugar, brown sugar and cinnamon.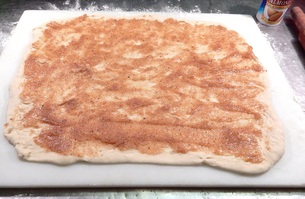 Notice that I've left a slight border all the way around the dough. This makes it a bit easier to handle while rolling it up like a jelly roll. The almond filling acts like a glue to hold everything together, but if you use anything else, you may need to dampen the top edge so it will stick at the end---this is especially true with cinnamon sugar.
After you roll the rectangle up into a jellyroll, as you would for cinnamon rolls, place it on a cutting board and starting about 2" from the top, slice it lengthwise down the center. You have to have a really sharp knife for this, or a very large rotary pizza cutter. Leave the top two inches of roll uncut and still connected. Then turn the two halves cut side up. (Click on the images to see the whole picture.)
Coil each side into a spiral and form them into a double swirl, being sure to keep the cut side up the whole time. Don't be too fussy about them being even or perfect--the loaf will look beautiful nonetheless.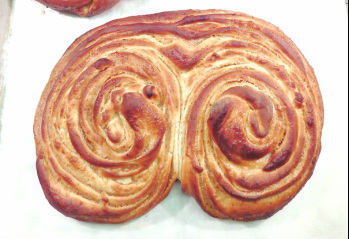 Cover with a clean, dry cloth and let rise for 30 minutes, then bake in a preheated 350 degree oven for 25 to 30 minutes. When done, remove from oven allow to cool on the pan for about 10 minutes and then transfer to a wire rack to cool. Drizzle with icing if desired (I used almond extract instead of the usual vanilla.)
You can also use a divided roll to make a half pipe twist. I recently saw this made with pesto for a savory bread.
I hope all these photos inspire you to try a new twist on yeasted coffee cakes. I'm sure your family will thank you. God bless and happy baking!