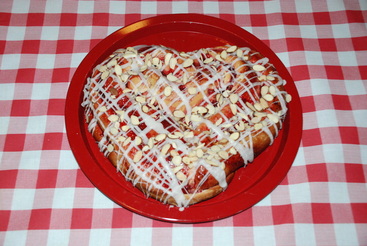 Here's a lovely breakfast treat to make for your sweetheart for Valentine's Day breakfast. It's a heart-shaped yeasted coffee cake that is not much more difficult than cinnamon rolls, so it's well within the reach of most intermediate Breadheads.
The dough used for this coffee cake could be any basic sweet dough, something you might use for cinnamon rolls or soft dinner rolls.

Sweetheart Coffee Cake Yield: 1 loaf, about 12 servings
½ batch (20 to 24 oz.) of Basic Sweet Dough or dinner roll dough
1 (12 oz.) can Solo Cherry Cake and Pastry Filling

On a lightly floured board, roll dough out into a rectangle 12" x 14". Top the dough with the filling, leaving 1 inch of the top edge dry. Roll the dough up jellyroll style. Lightly brush the top edge with a little water, so it will stick to the roll; pinch to seal. Using a sharp knife cut the roll lengthwise, leaving about 2 inches uncut at both ends. Grasp the two sections near the top and rotate them so the interior layers are facing upwards, and pull the top section toward you to form the heart shape (see photos). Place on a baking sheet or jellyroll pan lined with parchment. Cover with a dry towel and let rise until doubled, 30 to 45 minutes. Bake in a preheated 375 degree oven for 20 to 25 minutes or until lightly browned. Remove from baking sheet and cool on rack. Drizzle with almond flavored glaze and sprinkle with toasted sliced almonds.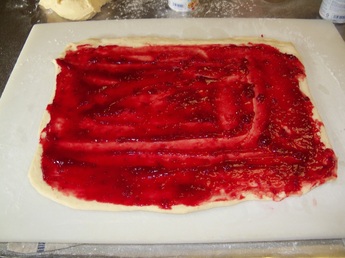 Here's the dough spread with cherry filling. You could use any flavor you want, but cherry and raspberry look the most appropriate for a Valentine.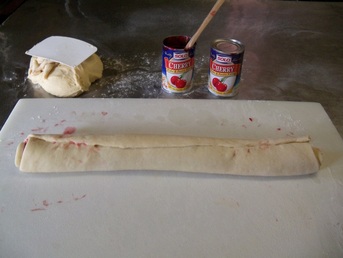 Here's the jellyroll---the next step (not illustrated) is to put it on a parchment-lined jellyroll pan or baking sheet. You CAN shape it on the counter and then transfer it, but that can be a little tricky and messy.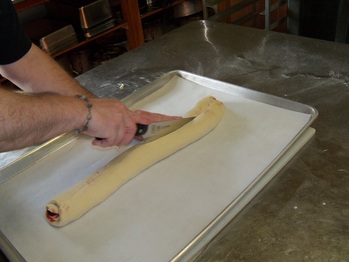 I used my sharpest knife to cut it down the middle, leaving about 2" uncut at top and bottom . . .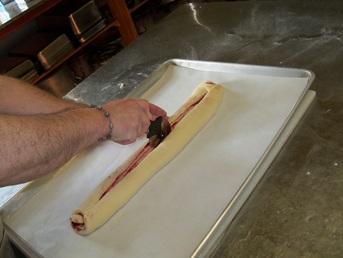 . . . and then used a pizza cutter to make sure it was cut all the way through. The pizza cutter doesn't cut the parchment or scratch the pan.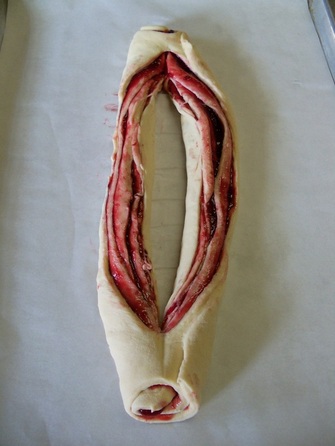 The cut sides are turned upwards. At this point it looks like a bloody squid on a butcher block, but push on through!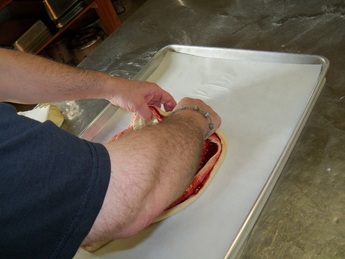 Grab the two sides near the top and bring them downward to form the heart (bad angle of photo, I know---sorry!)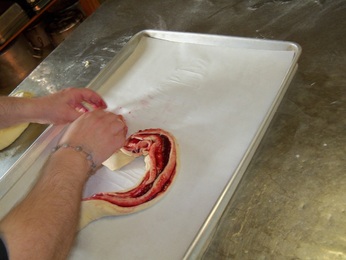 Notice that I actually turned the top edge under to point downwards. That makes the upper arches more pronounced so you get a classic heart shape.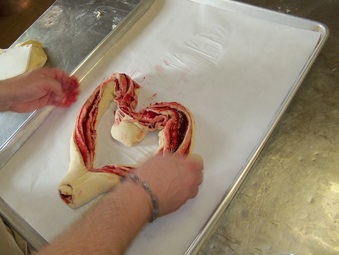 The sides of the heart may require a little adjustment in order to get a symmetrical coffee cake, and you'll get filling all over your fingers.