There are not too many breads I like more than cornbread, and at the Home Baking Association's annual meeting I made the acquaintance of Robert Harper, the president of Sunflour Flour in Hopkinsville, Kentucky (
HERE
is their website). They produce cornbread mix (both white and yellow) and self-rising flour, distributing primarily in the south. (And did you know that self-rising flour was one of the first "convenience foods" introduced into the market?) Mr. Harper was kind enough to send me some samples, which I've been using for a variety of baking experiments. (Full disclosure: I did not receive any other remuneration from the company, and all opinions here are entirely my own.)
I thought perhaps that this cornmeal mix could be easily converted into corn dog batter with the addition of a little sugar and mustard powder. The flavor tuned out perfect, but the cornmeal in the mix isn't ground very fine, which gave the batter a kind of gritty texture. I love that kind of texture in cornbread, but in a fried product, it gives too many pockets for the hot oil to invade. Result: really greasy corn dog, even after wrapping it in paper towels for a few minutes.
I had similar disappointing results trying to use the mix to make cornmeal shortbread cookies. The proportions of cornmeal to white flour were just about perfect, but the mix has too much salt to really work as a cookie base. In fact, when I finally got around to making skillet cornbread using the recipe on the box, the resulting cornbread was noticeably saltier than my mother's recipe. It wasn't unpleasant, and perhaps that represents a regional preference---I'm sure the Sunflour marketers did their research---but it made me want to try it with unsalted butter and a little extra honey.
You might wonder why I keep trying to use these mixes in ways beyond their intended use. I figure that the recipes on the package are of course going to work just fine, but I want to see if the product can be more versatile. So when I found a recipe for quick drop biscuits made with sour cream, I used the self-rising flour Mr. Harper sent me and got a very fine product indeed. I added dried dill to give them a little herbal flavor and they proved quite popular at our Illinois Valley Herb Guild meeting. The recipe I started with is
HERE
---I subbed self-rising flour for the all-purpose flour, and omitted the baking powder and salt, since they are included in the self-rising flour. I used only a tablespoon of dill, but you could use more.
Another reason I like to keep self-rising flour around is because you can make a quick batch of biscuits or a last-minute quick bread with a minimum of fuss. This week alone I've used it to make biscuits, blueberry buckle and an apricot coffeecake, and in all three instances I decided to make something on a whim, without grocery shopping. If you keep your pantry as well-stocked as your budget will allow, you can bake a little more often, espcially when sub-zero temps and drfiting snow keep you at home!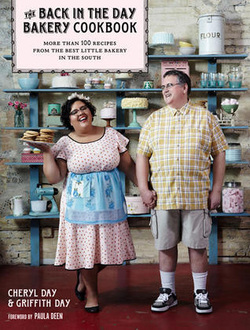 The Blueberry Buckle recipe I got from The Back in the Day Bakery Cookbook, which I intend to review for my "Breadhead Bookshelf" series eventually. But you can be sure that it's going to get a positive review---everything I've made from this book has been excellent. Keep an eye out for it.