Here's three of the recipes I presented at my demo for the Spring Valley Historical Society. You can find Bolo Rei on the "Recipes" page. Don't burn the scones!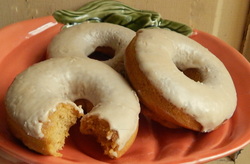 Pumpkin Spice Donuts
with Chai Latte Frosting

1 cup pumpkin (not pumpkin pie filling)
2 eggs,
½ cup pumpkin spice creamer (liquid)
¾ cup packed brown sugar
¼ cup canola oil
2 cups all-purpose flour
2 teaspoons baking powder
2 teaspoons pumpkin pie spice
½ teaspoon salt

Chai Latte Frosting
½ cup sweetened chai tea
2 tablespoons pumpkin spice creamer (liquid)
¼ cup butter
2 cups powdered sugar

Preheat oven to 350 degrees. Prepare two donut pans (12 donuts total) with cooking spray and set aside. In a medium size bowl, combine pumpkin, eggs, creamer, sugar and oil. In a separate bowl, whisk together flour, baking powder, pumpkin pie spice, and salt. Add the flour mixture to pumpkin mixture and stir until nearly smooth—do not overbeat.

Transfer the batter to a large ziploc bag and expel excess air before sealing. Snip one corner of the bag and pipe batter into donut pans---each section will be slightly more than half full. Bake for 12-15 minutes or until donuts are lightly browned and spring back when touched. Allow donuts to rest about five minutes in pan before removing to cool on a wire.

For frosting
In a small saucepan over low heat, bring sweetened chai tea to a simmer and reduce to about three tablespoons. Cool completely and stir in creamer. Whisk in butter and powdered sugar until smooth. Use to frost donuts. If you want a light glaze instead of frosting, omit butter and use only one cup of powdered sugar.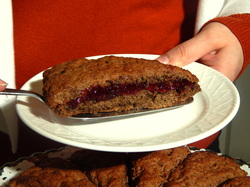 Chocolate Raspberry Scones

2 cups all-purpose flour
¼ cup unsweetened cocoa powder
½ cup granulated sugar
1 Tbs. baking powder
1/8 tsp. baking soda
¼ teaspoon salt
½ cup (1 stick) of chilled butter
½ cup buttermilk
1 large egg, beaten
1/3 cup semi-sweet chocolate chips, chopped fine
½ cup raspberry preserves or cake filling
OR 1 cup of fresh raspberries

Preheat oven to 400 degrees, and lightly grease a baking sheet or cookie pan. Sift flour, cocoa, sugar, baking powder, baking soda and salt into a medium size bowl and stir thoroughly. Cut butter into small pieces. Using a pastry blender or two sharp knives, blend butter into the dry ingredients until the mixture resembles coarse crumbs. Stir in chopped chocolate chips. In another small bowl, whisk buttermilk and egg together until well blended. Pour into dry ingredients and stir with a wooden spoon until just moistened, but do not overmix. Turn dough out onto a lightly floured surface and knead gently for 8 or 10 strokes. Divide in half, and on a lightly floured surface, pat each piece into a flattened 8" round. Lay one round on the pan and spread the top with the raspberry preserves or fresh raspberries. Lay the second round on top. Using a large knife or metal spatula, cut dough into 8 wedges, wiping knife after each cut. Bake at 400 degrees for 15 to 20 minutes, or until round is firm on the edges but still slightly soft in the middle. Cool on a wire rack, then cut apart before serving.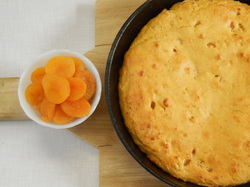 Apricot Skillet Bread

1 cup yogurt (plain or flavored)
2 eggs (or egg substitute)

½ cup yellow cornmeal
1 cup spelt flour (or all-purpose)
2 Tbs. brown sugar or honey
1 Tbs. wheat germ
2 tsp. baking powder
1 tsp, ground coriander seed
½ tsp. ground ginger
½ tsp. salt

Preheat oven to 400° F. In a medium size sauce pan, warm yogurt over low heat until liquid. Remove from heat, and add apricots and eggs; stir until blended. In another bowl, mix all dry ingredients thoroughly. Lightly grease a 10" cast iron skillet, and place in the oven for five minutes. Pour yogurt mixture onto dry ingredients and stir until just moistened. Remove skillet from oven and pour in batter, smoothing the top with a spatula or spoon. Immediately place in oven and bake for at least 20 minutes. To test for doneness, insert a toothpick in the center of the bread and remove--if it comes out clean, the bread is done. If not, return to oven for five more minutes. Leave in the pan for five minutes after it comes out of the oven. Then, remove the flatbread by placing one hand (protected by an oven mitt or towel) on top of the bread and turning the pan upside down with the other hand, catching the bread in your hand as it comes out. If bread does not come out easily, allow to cool in pan for a few minutes, then try again. Allow to cool on a wire rack for 10 more minutes, then cut into wedges and serve.