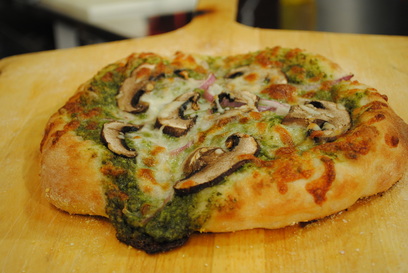 Photo by Elizabeth Steffen
Last day of National Pizza Month! This is Spinach Pesto Pizza, which I developed because we had scads of spinach coming in from the garden. Since fresh spinach is pretty much available year round, it's a great veggie pizza to serve anytime. I make it with red onion, baby belle mushrooms and baby Swiss cheese, but feel free to experiment.
Spinach Pesto
Makes 1½ cups
4 cups washed, torn spinach leaves, stems removed, well packed, about 6 ounces
3 garlic cloves
½ cup walnuts or pistachio nuts, toasted
1/3 cup extra virgin olive oil
3 oz. grated Romano Pecorino cheese
Juice of ½ lemon
Salt and pepper to taste

Place 2 cups of spinach leaves, garlic, nuts, and lemon juice in a food processor container. Cover and puree until well blended. Add remaining spinach and olive oil, and blend until smooth. Fold in Romano cheese, and adjust seasoning.

Notes
---A great alternative to traditional pesto, especially when it's too early for basil and the spinach is the star of the garden. By the way, mixing in a little arugula, endive or other salad greens can give you subtle variations on flavor. A quarter cup of fresh parsley is a nice addition as well.
---This pesto is a gorgeous bright green with a fresh flavor to match. You can also use it for pasta like traditional pesto (it's excellent with seafood ravioli or cheese tortellini) and makes an unusual dip for crudités--- just be sure to let everyone know it's NOT guacamole!