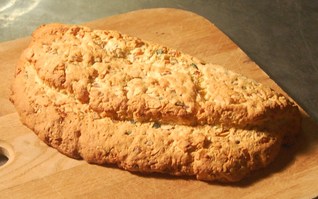 German Stollen is a cherished Christmas tradition in many households, including here at Saint Bede Abbey. We tend to prefer the yeasted version, with red and green candied cherries and slivered almonds, and I have the recipe from our Fr. Arthur's mother, the real deal. It takes a long time to rise, because the dough is so rich. The characteristic "folded-over" shape is supposed to suggest the swaddling cloths of the infant Jesus. One elderly friend recalled her mother saying that she should "whisper your hopes and dreams into the dough and wrap them up tight with the baby."
When I'm short on time for the holidays (yes, it even happens to monks!) I sometimes make what I call a Shortcut Stollen, sometimes referred to as a Dresden stollen or a biscuit stollen. It's a quick bread, and you can make it start-to-finish in about an hour. Like many Christmas breads, stollen uses dried fruits for sweetness and flavor. The recipe version I'm sharing uses golden raisins and the loaf is usually dusted with powdered sugar before serving. Tonight, however, I used the same kind of dried fruits one finds in fruitcake, along with sliced almonds, because that's what I happened to have in the pantry. I also drizzled on a little hazelnut frosting and sprinkled a few more fruits around and got this:
Feel free to do a little experimenting of your own. Try it with candied pineapple and dried cherries, or use snipped dates. The recipe can be found
HERE
.