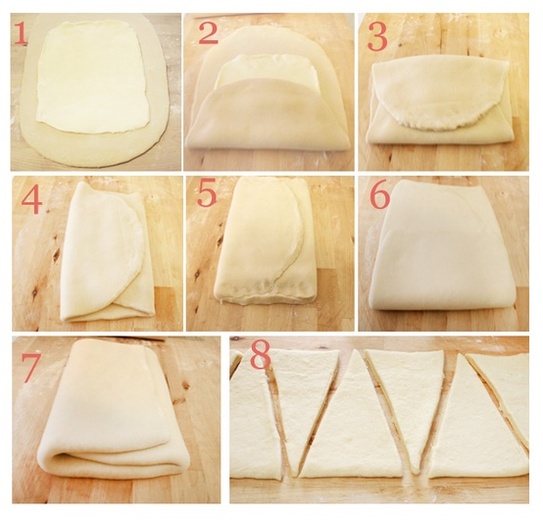 I love flaky croissants made with real butter, but unfortunately they are hard to come by in a world populated by Pillsbury Poppin' Fresh tubes. The problem of course is one of time: authentic French croissants require between a day and a half and three days to complete. You're not working that entire time of course, but the process involves rolling out the dough, making a packet with kneaded butter in the center, then more sessions of rolling and folding with periods of refrigeration in between, plus an overnight stay in the fridge before baking day. Then you need a ruler and a protractor to cut the dough just right.

And, may I add, that it is completely worth every second.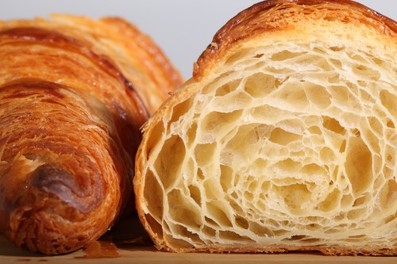 The result of all that folding and rolling is the production of multiple thin layers of soft dough alternating with even thinner layers of butter. The best description of this process can be found in Robert Capon's excellent reflection/cookbook
The Supper of the Lamb
(Amazon page
HERE
). In it he describes the method for puff pastry, which is virtually the same as for croissants, resulting in multiple layers of butter and paste. He concludes with the baking of a pastry cookie:
"He pops it into a 450 ° oven and closes the door. Consider carefully now. There are 257 layers of paste in that cookie, separated by 256 layers of butter . . . But every one of the thin sheets is full of water. Consequently, when, after eight minutes or so, the heat of the oven raises the temperature of the layers above 212 °, the water expands violently into steam. Since. however, the steam is entrapped, it forces the layers apart to make a means of escape--a task made easy now, for the butter has melted and each layer of paste is nicely free of the others . . . At this point he turns the oven down slightly and waits until all the steam is driven out and all the layers have been french-fried by the intervening butter. The triumph of puff paste is complete."
(
The Supper of the Lamb
, 1967, p. 158)
I have developed a recipe for "Shortcut Croissants" that cuts the prep time so that it can be completed in a single day, with similar although not identical flaky results. I use this recipe to make croissants, but also when I'm make a recipe that calls for the crescent rolls that come in a tube. My main reasons for doing this: 1) As a monk without a car or a check book, sometimes it's easier for me to make something from scratch than to get to the store; 2) Homemade = always better; 3) better nutrition: for example, a single tube crescent roll has 9% of your RDA of sodium. Granted, my recipe uses two sticks of butter, but you could use unsalted butter, which is better for you than partially hydrogenated oils as well.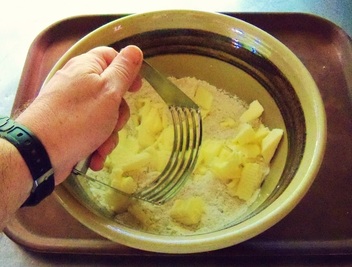 My recipe for
Shortcut Croissants
combines traditional fold-and-roll pastry method with another common pastry technique: cutting butter into flour with a pastry knife. The pieces are left larger than one might for pie crust or shortcake, and then the mixture is kneaded in with a soft dough. After a little refrigeration, you do some folding and rolling, let the dough rest again in the fridge, and you are ready to make some flaky goodness. The whole recipe with detailed instructions can be found
HERE
. Don't try it on a humid day when the kitchen is hot unless you have a lot of experience with rolling dough and can work quickly. That's why I'm
sharing it now---it's great fall recipe.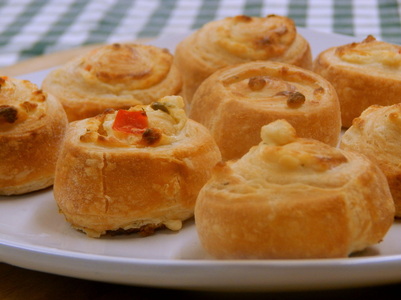 I mixed up this dough last weekend so I could make some appetizers for a cookout. I rolled dough out into two rectangles and spread each with different cream cheese mixture: one was garden vegetable, the other had chopped jalapenos. I rolled the dough up and sliced it like mini cinnamon rolls. After a half hour rise, they went into a 400 degree oven for about 15 minutes. Neither batch lasted very long.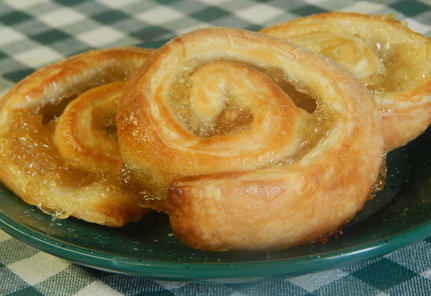 I've also used this dough to make simple breakfast spirals with a pineapple filling. These are very similar to a Danish, but with far less sugar in the dough than for traditional Danish pastry. They are delicious with any flavor of pastry filling: raspberry, cherry, almond, etc. and, there is absolutely no need for frosting!