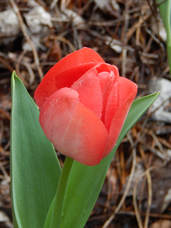 Spring has almost sprung here in north central Illinois---we had three inches on snow on Saturday, but it almost completely disappeared by Tuesday afternoon. The tulips and daffodils I planted last fall are sprouting all over the yard and the chives are up. But the days remain a bit chilly, so we're still serving hot soup in the student dining room. In the monastery we get soup at lunch every day, all year long, which has probably been the case since we first showed up on the property in 1890. No better way use leftovers!
My herb guild has a Soup Night every year and a couple of years ago at that meeting I gave a talk on herbal breads to accompany soups, among them a savory biscotti recipe I found on the
Land O'Lakes Butter website
. It proved quite popular, in part because the idea of a savory biscotti rather than a sweet one is so different. In recent months I've been developing recipes for my next Craftsy class, which has an herbal theme, so I decided to create a savory biscotti recipe for the class. My favorite cheese is smoked Gouda, so I made that the central flavor, along with a little thyme and rosemary. We served them at lunch on a day when we had out of town guests visiting the abbey and got enthusiastic reviews, so I'm posting the recipe here.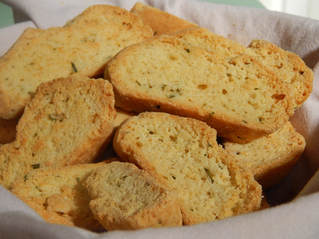 Savory Biscotti
1¼ cups all-purpose flour
2 tablespoon fresh rosemary
1 Tbs. fresh thyme
1 1/2 teaspoons baking powder
½ teaspoon salt
½ cup unsalted butter, softened
2 eggs at room temperature
6 oz. smoked gouda, shredded
Directions
Preheat the oven to 350 degrees and line a 9" x 13" baking sheet with parchment paper. In a medium mixing bowl, whisk together the flour, rosemary, thyme baking powder and salt. In separate bowl, beat the butter and eggs together until smooth, then stir in the cheese. Slowly add the flour mixture and beat until combined. Divide dough in half. Form each half into an 8" x 3" slightly flattened log. Bake 30 minutes or until golden brown. Remove pan from oven and cool for 20 minutes. Transfer the logs to a cutting board. Using a sharp serrated knife, cut into 3/4-inch thick pieces on a slight diagonal. Return them to the pan and bake an additional 20 minutes, turning them over after 10 minutes. Remove from pan to a wire rack and cool completely before serving. Makes about 20 biscotti, plus some smaller pieces for nibbling.

Notes
--I first made savory biscotti for a presentation to our local herb guild. I made several kinds of crackers and side breads, but these savory biscotti were the biggest hit. Excellent with any soup.
-- You can use other cheeses (a sharp white cheddar, pepper jack, and provolone all come to mind)or herbs. Remember, use one half to one third as much dried herb as fresh.