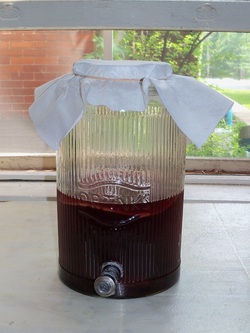 We keep small vinegar and oil decanters on all of the tables in the monastery refectory (the monk word for dining room) and recently the red wine vinegar on several tables developed a translucent, gelatinous film on the top. Naturally this phenomenon caused some alarm among the brethren. But Br. Luke our science teacher reassured us that it was merely a type of acetic acid–producing bacteria called
acetobacter,
the natural substance that changes wine into vinegar. Most people responded with a variation of "Eeew, gross!" but my first thought was
Now's my chance!
I had heard about making vinegar out of leftover wine on the radio program
The Splendid Table
in January of 2012, and since then I've been itching to try it for myself. But I wasn't sure where to get a vinegar "mother"---the more charming word for the acetobacter---so when one literally showed up out of nowhere on our table. Since we drink wine only on special occasionals like Easter and the feast of St. Benedict, we often have wine leftover and no way to use it. So I was eager to find a way to make use of it.
My mom gave me the vintage gallon glass dispenser pictured above---the spigot doesn't work but she didn't want to throw it out. I washed the interior and lid thoroughly and let them air dry. Then I raided the prior's wine closet for all the leftover half bottles of merlot and syrah from our last big dinner, which turned out to be about 4 1/2 cups. I poured it into the jar along with 6 cups of filtered water and the contents of one of our "infected" vinegar decanters. I covered the top with a looseweave cloth and attached it with a rubberband to keep the dust out while still allowing air to reeach the liquid. Then I put it into the basement storeroom where Br. Luke and I store our canned vegetables, which keeps warm and dark all day. You could smell the alcohol in the hallway for a few days!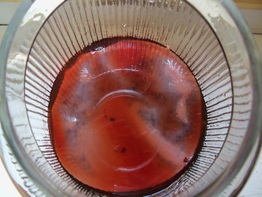 It took about three weeks for the mother to develop into a full disk. The mother can be as much as a half inch thick, and it feels like slimy leather. The alcohol smell had disappeared and had been replaced with the delcious aroma of vinegar.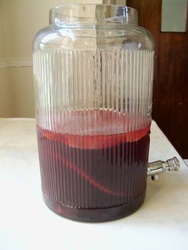 The mother will eventually sink to the bottom and a new one will develop. At some point I'll have to reach in with thoroughly washed bare hands and pull out the exhausted mothers as they will start taking up too much space. I added four more cups of diluted wine last night.
There are websites which give very specific directions for adding more wine and in what amounts, and there are other websites which tell you not to get too uptight. Here are two that I found very helpful:
http://www.marksdailyapple.com/how-to-make-red-wine-vinegar/#axzz2Ta9RlMME
http://img4.sunset.com/static/pdf/OneBlock_Vinegar.pdf

Eventually I'll strain the vinegar through a coffee filter and pasteurize it (155 degrees for 20 minutes), maybe allow it to age, maybe start using it. By all accounts it's far better than commercial wine vinegars even without aging. In any case, I have a pretty good idea what all my foodie friends are getting for Christmas!