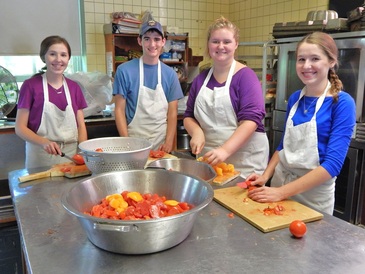 Four freshmen Stage Rats came out today to help me process tomatoes and can pizza sauce. One or two had had some canning experience, so the whole project went smoothly from start to finish. If you are wondering about the sauce recipe I used, I've posted it
HERE
. It's the "Big Ol' Batch of Pizza Sauce" recipe from season two of
Breaking Bread with Father Dominic,
also found in my cookbook
Thursday Night Pizza.
The recipe starts with 25 pounds of tomatoes, and can be frozen in ziplock bags as well as canned.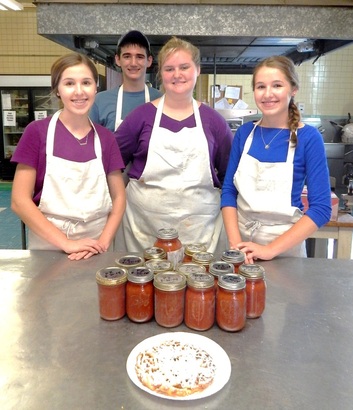 I asked them if they wanted me to make a snack as a reward for their labors, and we settled on funnel cakes, an appropriate treat as we come to the end of the season of county fairs and food festivals. I was delighted to discover this summer that the funnel cakes served at Coors Field in Denver are made from scratch with real batter, not just reheated in oil like I had once at a minor league park---blech! That recipe is also a fave and can be found
HERE
. The Rats get them several times a year. I spoil them, I know---but they work hard for me all year. This crew will be at the top of the list of invitees to my next pizza party!