Last year's pizza sauce was a disappointment, because many of the tomatoes I used were rather flavorless---not the best year for growers, from what I understand. I still have a little bit of last year's vintage in the freezer, but it may end up in soup rather than on a homemade crust.

​This year's harvest is much more promising, flavor-wise, but our usual grower Br. Luke had classes all summer and leaves this weekend for school at Lewis University, so he didn't plant a garden at all. I put the word out to my students and fellow teachers and they came through in a big way. My usual method is to do about a gallon of sauce at a time, since I have to work at night when the kitchen isn't being used for the school, and I don't want to be up until midnight washing Mason jars. It feels rather artisanal, like I'm making small batch bourbon.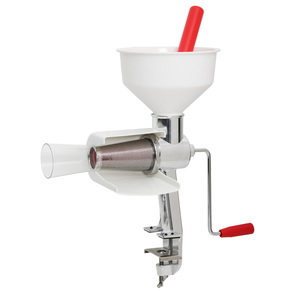 The work has been facilitated by my purchasing a
Victorio tomato mill
(the company also makes grain mills) at a second hand shop in Chillicothe IL. The $59 to $69 retail price had kept me from getting one at Ace Hardware---this one cost me
five bucks
. It makes short work of quartered tomatoes, spewing puree out the side and the seeds and skins out the front. I think you could produce a lot of applesauce with this device as well. It is certainly more efficient than a Foley food mill, which does the job but requires a bit more stamina to process 50+ pounds of tomatoes. The Stage Rats who came out that helped me in previous years were as grateful for the purchase as I was!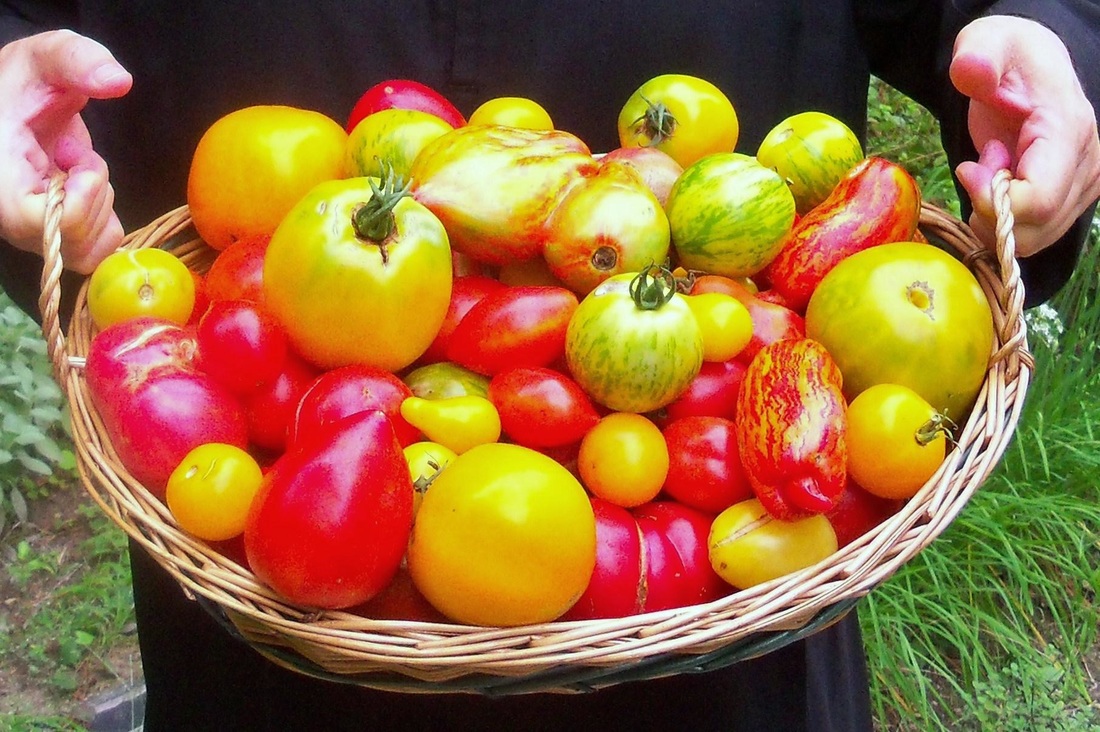 Big Ol' Batch o' Pizza Sauce

About 25 pounds fresh tomatoes (enough to produce 2 gallons puree)
4 (12 oz) cans of tomato paste
1 Tbs. minced fresh thyme
1 Tbs. minced fresh basil
2 Tbs. minced fresh chives
2 Tbs. minced fresh oregano
4 cloves of garlic, minced extra fine
½ tsp. black pepper
¼ cup grated parmesan cheese
2 Tbs. granulated sugar (optional)
1 to 2 tsp. salt (optional)

Remove stems, skins and seeds from ripe tomatoes; chop tomatoes into 2-inch pieces. Process, in batches, in a blender or food processor until smooth. Transfer puree into a 9- or 10-quart stainless steel pot. Simmer, uncovered, over low heat, stirring occasionally, for three or four hours, until reduced by half. Do not allow to come to a full boil or it can scorch on the bottom—be patient.

Add tomato paste; mix thoroughly. (You might want to transfer sauce to a smaller pot.) Add thyme, basil, chives, oregano, garlic, pepper and cheese; stir to mix. Simmer, covered, for about 30 minutes. Add salt and/or sugar to taste (your tomatoes may be sweet enough; the salt may be unnecessary if you use salty toppings like pepperoni, bacon, or anchovies). If the sauce seems to acidic, add 1/2 tsp. of baking soda and stir thoroughly.

Place the pot in a sink full of ice to cool the sauce. Divide into freezer bags or other airtight plastic containers. Store in freezer until needed. You may also can this sauce in mason jars.

If you use dried herbs, cut the amounts in half. The flavor of dried chives is a bit bland, so you might substitute 1 or 2 teaspoons of onion powder.