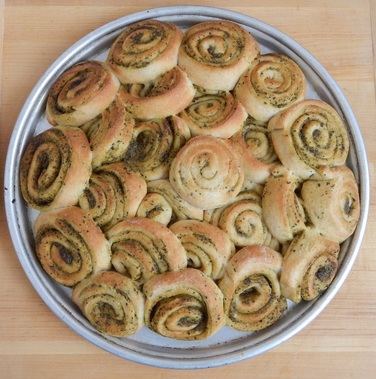 I grow a couple of sizable basil plants in the abbey herb garden every year, and when we get to the end of the season, just before first frost, I cut the plants off at the ground and share the wealth, I'll share bunches with my chef friends at local restaurants, make a big batch of pasta sauce, or make pesto. When I do the latter, I almost always make pesto spirals.
Obviously, at this time of year I use pesto in a jar from the grocery store, which means that the pesto isn't quite so green and fresh-looking. But the flavor is excellent, and the rolls pair well with pasta in cream or tomato sauces. It's as simple as making cinnamon rolls. Make some kind of roll dough (mine was potato roll dough with a little whole wheat flour), roll out to 18" x 24", spread with pesto, and roll up jellyroll style. Cut 1" slices, maybe a little thicker, and arrange on a lightly greased 14" pizza pan. Let rise, then bake at
350
°
for 30 to 40 minutes.
Need more specific instructions? Click HERE to get a printer-friendly version with photos.