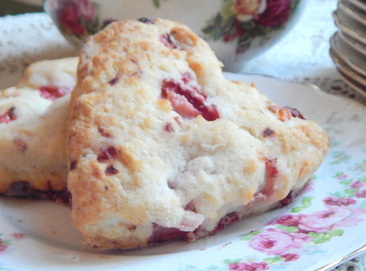 If I were going to choose a recipe to teach to a newbie baker an I had less than an hour, I would definitely choose scones as my ideal recipe: easy to make, infinitely versatile, using simple ingredients and prepared with ordinary equipment. AND you get to eat them, warm with butter, within forty-five minutes or less. What's not to love?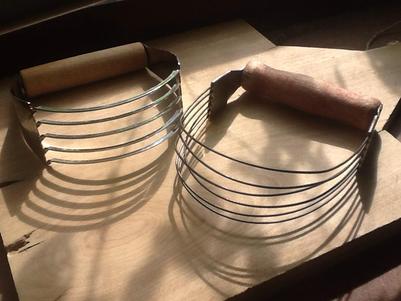 Some people might take exception to the "ordinary equipment" part, since not everyone has a pastry blender in the drawer. I was surprised to discover this week that there are kitchens without a rolling pin! However, you can achieve the same goal (cold butter cut into small pieces blended with flour) with a pair of ordinary knives or (gasp!) a food processor. However, if you do have a Cuisinart and not a pastry blender or granny fork, I'm not sure we can be friends. I have several varieties of pastry blenders, and the one on the left with the metals "blades" seems to me to be the most useful. When you are using cold butter (necessary for really flaky pastry) the harder blades are more effective than the wires on the right, which tend to get bent.
Besides appreciating the time factor, I like scones because they aren't as sweet at other breakfast breads coated with glaze or slathered with frosting. Granted, I love caramel pecan cinnamon rolls more than most sugar addicts, but it's hard not to feel guilt afterwards. With scones, you feel like you've had "a treat without a cheat". Some commercial scones are about as healthy as a Krispy Kreme donut, but the ones you make yourselves are no worse than a biscuit. Just go easy on the clotted cream and you'll be fine.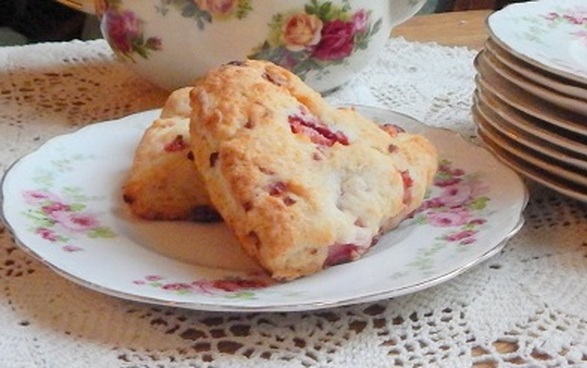 This recipe will appear in my upcoming cookbook Breadhead Breakfast Treats, which I hope to have available by May 2016

Strawberry Cream Scones

2 cups all-purpose flour
2 teaspoons sugar
2 teaspoons baking powder
½ teaspoon salt
6 tablespoons cold butter
1 cup chopped strawberries (1/4" dice)
¾ cup heavy cream

Preheat the oven to 425° F. Lightly grease a 9 x 13-inch baking sheet and set aside. Place flour, sugar, baking powder, baking soda and salt in a medium size bowl whisk together until blended. Work the butter into the flour with a pastry cutter until the mixture resembles coarse bread crumbs. Add strawberries and stir till evenly distributed. Add cream and mix until a cohesive ball of dough is formed; do not over-mix

Transfer the dough to a well-floured work surface. Pat or roll the dough into an 8-inch disk about ¾" thick. Use a chef's knife, bench knife or large pizza cutter to cut the disk into 8 wedges. (You may also use a round or heart-shaped cookie cutter.) Transfer scones to the prepared pan, evenly spaced. Bake the scones for 20 to 25 minutes, until golden brown. Cool on the pan and serve warm.

Breadhead Backstory
I'm in "the scone phase" of recipe testing, and last week I discovered that we had several pints of fresh strawberries that needed to used up pretty quickly. As a practical baker, that was reason enough to make these! Strawberries and cream go together, and the richness of the cream means you can use a little less butter on this recipe. In a convection oven (with the blower on), there's real risk of the strawberries on the surface of the dough getting scorched black, so if you are using one be sure to cover the pan lightly with aluminum foil until the last few minutes of baking. The strawberry flavor of these scones is rather delicate, so don't serve them with an overwhelmingly strong coffee or heavily flavored tea—for the latter, I recommend Formosa Oolng.

This is fairly classic scone recipe, and you could substitute raisins, dried cranberries, or blueberries with equally delightful results. I like to use dried apricots or snipped dates with chopped pecans and serve them with clotted cream and a little spoonful of orange marmalade. When I tested the recipe, this strawberry version was enjoyed both by the monks at breakfast and some of the faculty at lunch, and the only criticism I received was that I hadn't made enough for the whole staff!