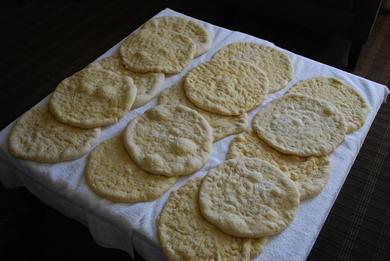 Busy weekend ahead! Friday I'll be speaking at the Knights of Columbus Hall in St. Charles to give a presentation titled "What Kind of Bread Shall We Be?"---a good way to start your pre-Lenten reflection (see the events page for more details and a contact person). Then on Saturday I'll be giving a pizza demo and sampling at the K of C in Godfrey IL (also on the events page). There are still tickets available for both events, so I hope to see you there!
Whever I do a pizza event for more than a dozen people or so, I have to par bake crusts ahead of time--I did ten on Tuesday night and will do another dozen or so tonight. I thought Breadheads might be interested in the method, so I'm sharing a brief section from my book
Thursday Night Pizza
(Reedy Press, 2010, get it from St. Bede Abbey Press
HERE
). By the way, par-baked crusts are a GREAT bake sale item.


Par-Baked Crusts
A par-baked crust is made with the same dough as the other pizzas in this book, although the more moist Italian-style dough tends to keep from drying out in the process. Sometimes I'll make American-style dough with a little extra water and turn the whole batch into par-baked crusts. Since the crusts are essentially baked twice, a wet dough helps prevent an overly dry crust.
Form the crust according to the directions and place on a peel lightly dusted with cornmeal; dock the dough. Brush the top of the dough all over lightly with olive oil and allow to rest for 10 minutes. Then bake on a preheated pizza stone at 350˚ F. for 7 to 10 minutes, or until the dough just beginning to brown lightly. Remove from the stone and slide onto a cooling rack. If large air bubbles form on the crust while it's in the oven, pierce them with a fork and deflate them. When the crust is completely cool, double wrap in plastic wrap and place in the freezer. Par-bakes may be stored for up to 3 months, but mine never last that long!
To use, unwrap the crust and let it thaw for at least 15 minutes before adding toppings. Then bake as usual. The crust will be crispier than with fresh dough, but you may find that you prefer that. I like a par-baked crust when I'm making a pizza with a lot of toppings, like the Muffaletta of the Pizza Diavolo, because it holds up better. Using par-bakes is also a great way to serve a lot of pizzas in a hurry. Using a combination of fresh and par-baked crusts, two culinary students and I once made 54 pizzas in an hour and a half for a fundraiser.