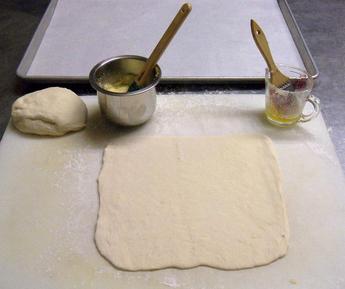 So here's what I made with that lovely Holiday Bread I mixed up the other night: Orange Sugar Twists. I adapted the recipe from Homemade Bread (1969, from the editors of Farm Journal). You start with enough dough for one loaf of bread or a dozen dinner rolls, and divide the dough in half. Form two small rectangles and let rest for 10 minute so it's easier to roll out. In the meantime, remove the zest from a medium orange with a microplane. Mix zest thoroughly with 1/2 cup of sugar. On a lightly floured board, roll half of the dough into a rectangle 12" x 9".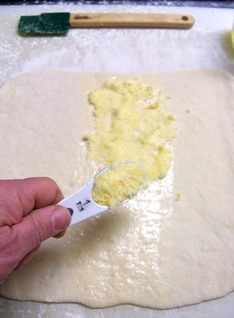 Brush melted butter down the center third of the dough and sprinkle on 2 tablespoons of the orange sugar.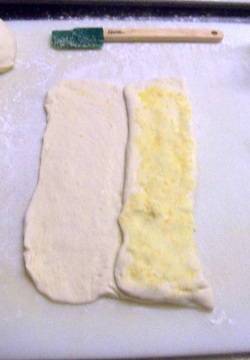 Fold one third of the dough over the center section. Brush top with butter and sprinkle on 2 more tablespoons of the orange sugar.
Fold the remaining third of the dough and seal the edges. Repeat with the second section of dough and remaining butter and sugar.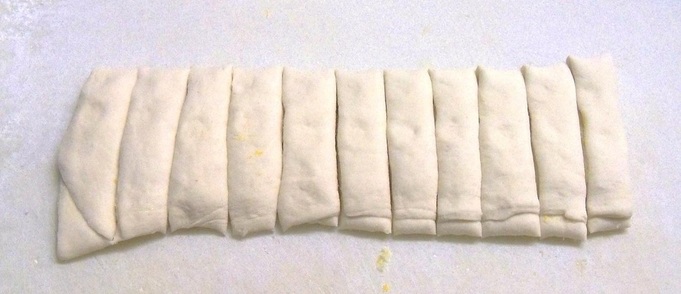 Cut each rectangle into 12 strips. Twist each strip twice, hold for a couple of seconds, and then untwist once. Place on lightly greased cookie sheets. Cover and let rise for 30 to 45 minutes or until doubled. Bake in a preheated oven at 375 F. for 12 to 15 minutes. Remove from pan to cool on racks.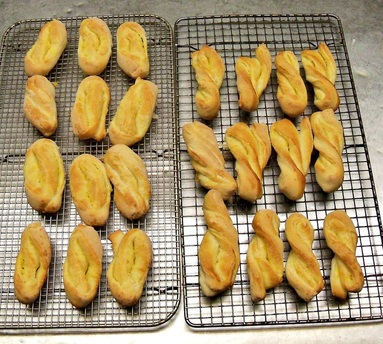 In a small microwave safe bowl or cup, whisk juice from half of the orange with the powdered sugar. Microwave on high for 30 seconds. Whisk in the almond extract to make a smooth glaze. Brush glaze on sugar twists and serve warm.

The ones on the left had one twist and were a bit lighter, the ones on the right had two twists and were a bit chewier. You don't really need the frosting if you are going to serve these with a light tea like Formosa Oolong or Jasmine, but with dark teas like Assam or coffee, the frosting really enhances the flavor.