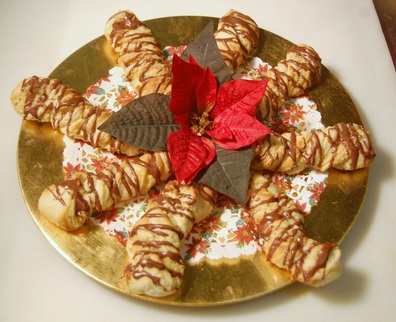 Here's another great Christmas breakfast treat: orange biscuit twists with chocolate drizzle frosting. These can be made in about 30 minutes, so it's a timely recipe to have on hand for holiday entertaining, potlucks, and brunches. The twists are essentially biscuit dough with an orange sugar filling. The recipe below calls for a light glaze, but I decided to try them with a chocolate drizzle (the exact same glaze with three tablespoons of unsweetened cocoa powder added). Check out the slide show below the recipe to see the steps.

Orange Biscuit Twists
Dough
2 cups all-purpose flour
1 Tbs. granulated sugar
1 Tbs. baking powder
½ tsp. salt
½ cup (1 stick) butter
½ cup milk
1 egg

Filling
Zest of a medium orange
1/3 cup granulated sugar

Glaze
½ cup powdered sugar
2 to 3 tsp. milk
½ tsp. vanilla extract

Preheat oven to 450 degrees. In a medium size bowl, stir flour, sugar, baking powder, and salt until thoroughly mixed. Using a pastry blender or 2 knives, cut in butter until mixture looks like coarse crumbs. Beat egg together with milk in a separate bowl, then add to dry mixture. Stir until dough clings together, then beat for about 1 minute by hand. Mix zest with granulated sugar for filling.

On a floured surface, pat or roll dough into a rectangle 8 x 15 inches. Brush dough with melted butter; sprinkle on orange sugar on the bottom half of the dough. Fold dough in half lengthwise, making a 4 x 15-inch rectangle. Using a rotary pizza cutter, cut into 1-inch strips (you may also use a sharp knife but wipe the blade clean between cuts to keep it from sticking). Twist strips three or four times, then place on a lightly greased 12 x 15-inch baking sheet. Bake at 450 degrees for 10 to 12 minutes, or until lightly browned.

Combine powdered sugar with milk and vanilla and stir until smooth. Place in microwave on high for 30 seconds. Brush as a glaze on top of twists; serve twists warm.