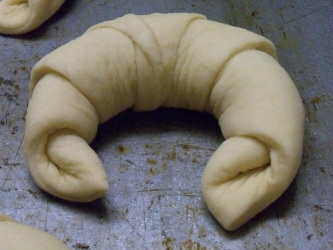 I've not been entirely satisfied with my basic roll dough recipe lately. It certainly makes lovely innamon rolls and tasty buns to accompany soups or anything with sauce, but it's the matter of texture that has had me searching for a new recipe. I want a
really
soft roll, like a tiny feather pillow of breadly yumminess. I want rolls so light that they hover a scant 16th of an inch above the wire rack while cooling. And I want them to retain these characteristics until supper time even if I bake them in the afternoon of the previous day. As it turns out, it doesn't take much for rolls to attain these qualities. As with so many things, it's all in the details---in the case, the details of the dough.
I decided that the best way to research was to look for recipes that were winners
at state fairs. So I got out Mel London's
The Bread Winners Cookbook
(Simon & Schuster, 1983) and
Prairie Home Breads
by Judith M. Fertig (The Harvard Common Press, 2001) then paged through the
Taste of Home
annual cookbooks, and lastly spent some time on the Internet, especially on
www.breadworld.com
, the website for Fleischmann's Yeast. Almost every roll that was a county fair favorite, a state 4-H winner or "best ever" recipe had some similar characteristics: an extra egg, shortening
rather than butter, and the addition of mashed potatoes to the dough.
The extra egg (that is, using two large eggs instead of one) adds both richness and softness to the dough. The famous Jewish bread called challah takes maximum advantage of these qualities, with some recipes using up to five eggs for a large braid. Eggs in the dough also promote better browning of the crust, as does the use of milk for the liquid, which also makes for a more tender crumb.
There was a great variety in the quantities of granulated sugar in these recipes, with as much as a half cup being used, mostly in recipes intended for cinnamon rolls or other sweet breakfast treats. As a general rule, I use about 2 tablespoons per batch of a dozen dinner rolls. One can use brown sugar, molasses or honey for the sweetener as well, although the latter two have a more noticeable effect on the flavor of the rolls.
What surprised me most of all was the amount of shortening called for, in some recipes as much as 2/3 of a cup! That's a lot of saturated fat (even though shortening actually has less saturated fat by volume than butter has) and it seemed to me to be unnecessary
with all richness provided by the eggs and sugar, so I used only 1/3 cup of shortening. Here's the full recipe, with instructions on how to make crescent rolls.
Best Ever Crescent Rolls
2 packages active dry yeast
½ cup warm (110° F) water
1 cup milk (skim, 2%, or whole milk all OK)
1/3 cup shortening, melted and cooled to lukewarm
¼ cup sugar
1½ teaspoons salt
1 cup mashed potatoes
2 large eggs, beaten
5 1/2 to 6 cups all-purpose flour
Proof the yeast by mixing it in a small bowl with the warm water and allowing it to develop for five minutes. Heat milk in a saucepan, but do not boil. Add sugar and salt, mix well and cool to lukewarm. Pour into a five-quart mixing bowl and stir in the mash potatoes, proofed yeast and eggs until smooth. One cup at a time, add four cups of flour, mixing thoroughly each time until the flour is incorporated. Beat in the melted shortening. Add another cup of flour, and mix with your hands until the dough pulls away from the side of the bowl and forms a single mass. Remove from bowl and turn out onto a lightly floured surface and knead for five or six minutes, adding more flour as needed to form a smooth, elastic dough. Remember that dough for rolls should be slightly softer than most bread dough. Place in a greased bowl and let rise, covered, in a warm place free of drafts until doubled, 1 to 1 1/2 hours. Punch down dough and knead
briefly to expel the larger air bubbles.
Divide dough into three portions and shape into smooth rounds. Cover with a clean, dry cloth and let rest 10 minutes to allow the gluten strands to relax so it will be easier to roll out. Roll one portion of dough into a circle roughly 14" in diameter. With a small pizza cutter or sharp knife, cut into eight equal wedges. Starting with the wide end
of each triangle, roll up and curve the pointed ends to shape into a crescent (see photo above). Note that the points are curved towards the narrower side of the top layer of dough and the point of the dough ends up on the bottom of the roll. Place the rolls, evenly spaced, on lightly greased cookie sheets---allow room for them to nearly double in volume. Cover baking sheet with a clean, dry cloth. Repeat with remaining portions of dough. Allow to rise until nearly doubled in a warm place, free of drafts--30 to 45 minutes. Bake at 375° F. until lightly browned, about 12 minutes (the interior temperature of the rolls should be 190 to 195° F.). Remove rolls from pan to cool slightly on wire racks and serve warm.
Copyright 2012 All rights reserved.