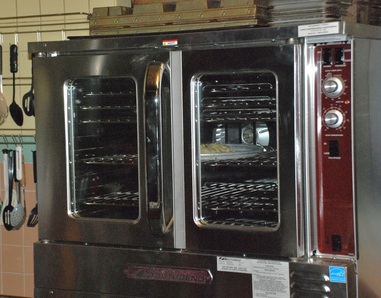 We just got a new oven in the abbey kitchen, much to my relief. The old one was well beyond hope of repair---the doors on the top oven couldn't be closed all the way, for example---so we got this new double decker installed today. I saved the "Blodgett" nameplate from the old one and intend to mount it on an old wooden cutting board as a memento. I owe a lot to that old warhorse, which was used to test every single one of my recipes since "Basic White Bread" in season one!
Since I had a shiny new oven to play with, I decided it was time to work on an item that has been on my Bucket List for a long time: learn to make a flaky pie crust. I've never made a pie in my life, and although I'm known as "the Bread Monk" many people express shock at this admission. So I looked at pie crust recipes in my cookbooks and online and studied the subtle variations and slight changes in method for each version. I downloaded a few onto iPad via my Recipe Box app and then went to the store to look at fresh fruit. Some good looking peaches were on sale for 88 cents a pound (!!!) so I brought some home, rolled up my sleeves and got to work.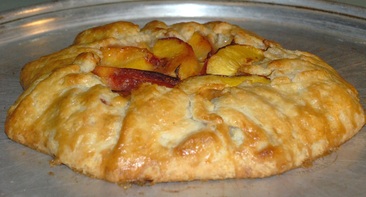 Here is the result I got, of which I am inordinately proud. Since it's Friday (a day of fast in the monastery) I can't sample it until tomorrow, but I know what I'm having for breakfast, believe me! Now I know everyone is going to want a recipe, but since I'm just a beginner, the best I can do it give you a link to the excellent recipe I used, which is
HERE
. Eventually I'll try some other variations and come up with my own instructions, and then I'll have something to post. After all, the peaches are just coming into season, and soon we'll be getting apples, and my mom loves blueberry pie, and I'm betting a fig galette with ginger and St. Bede honey would be good, and I think there's still some rhubarb in the freezer, and ..........