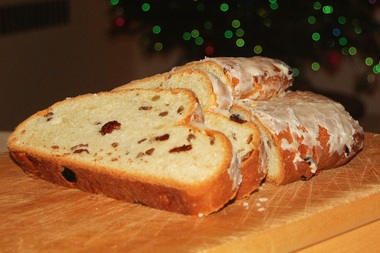 As I write this reflection, it's Christmas Day and I've got a batch of yeasted stollen rising (I wrote about the shortcut version earlier this month---find the recipe
HERE
). Many versions of this recipe call for the kind of candied fruits and citrus peels one finds in fruitcake, and although some of my fellow monks enjoy those flavors, many do not, myself included. So I'm making this batch with dried Michigan cherries and candied pineapple. We'll see what the results are like. (If there's a nice picture to the left of this paragraph, you'll know things turned out OK!)
HERE
is the recipe.
I had hoped to make this bread before Christmas and serve it at the reception following our Christmas Eve Mass, but other duties intervened. That has happened to me a lot lately, as it does to many people right around Christmas: you plan to get the cards sent out by Friday, you plan to have the tree decorated and the presents wrapped a week ahead, you plan to make all your favorite cookies----and then something interrupts. You get pulled into some other activity or crisis, and you never quite get around to what you had planned. I had an experience like the Friday before Christmas, and it turned out to be a wonderful gift from God.
I had decided to take a day away last Friday because my midterms were all finished. By way of explanation, here at Saint Bede we have to opportunity for a "day off" about once a month. You get $50 and a car, and you don't have to be home until late. Most of us visit family, go see a movie or shop at a bookstore, and eat at a favorite restaurant. Often I take the day to frequent antique malls, flea markets and pawn shops, in search of interesting items to give away as door prizes at bread demos. Lately I've been buying old, beat-up rolling pins and refurbishing them. I have my Stage Rats help me, so they can learn the skills and patience for detail sanding as well the value of upcycling.
So after running a few mundane errands (wearing my Santa hat), I went to the Pleasant Hill Antique Mall in East Peoria in search of rolling pins. I don't like to spend more than $10 each, so although I saw a dozen rolling pins that could use some TLC, I ended up with only three. The car was acting up a bit, so in the parking lot I called our prior Fr. Michael to give him a heads up in case I had car trouble. While I was still talking to him, a man walked past and asked "Hey, are you going to Peoria?" I was distracted, and a bit ticked that he interrupted my conversation, so I shook my head as a "no", even though I had plans to go into Peoria later that day. And in these scary times, I'm always wary of total strangers asking for favors. He passed on, I finished my conversation with the prior and hung up.
That's when I noticed that guy I had so casually dismissed was carrying a little boy who looked to be about two years old. Wherever he was headed, he was obviously in a hurry and maybe late for something. Two thoughts went through my head in quick succession: 1) Serial killers don't carry two-year olds; 2) If I don't help a guy with a little kid when it's less than a week from Christmas, I will go straight to hell when I die. Besides, I was wearing a Santa hat, so he probably figured
I
wasn't a serial killer either! I called out to ask where exactly he was headed, and he trotted back over to me.
It turned out that he was trying to get to a clinic where his son had gotten his vaccinations. He needed them to send documentation to his son's daycare, because he was starting a job tomorrow, but his wife had the car and he couldn't figure out where the bus stop was. I said I'd help him out, but asked if he had a car seat for the boy. He said he had one at his house, which was just a few blocks away. So they piled in the back; a quick stop at their tiny house for the car seat and off we went.
On the short trip to the clinic we introduced ourselves and I learned a lot more about his situation. Joe (I changed his name) was an Iraq veteran who loved working on cars, but couldn't find a job as a mechanic that paid the bills, so he worked as a concrete finisher---seasonal work, and hard labor at that, but they managed. That is, until the tornado hit Washington, which destroyed their house and his work vehicle. The tiny house was a rental
, hardly big enough for them and their three boys. His wife had to get work as a waitress to make ends meet.
What truly impressed me about Joe was that he related all this without bitterness or self-pity or resentment. He felt lucky to be alive, both after his tour in Iraq and because he and little Joey had narrowly escaped the tornado. He was obviously a spiritual person, with a strong sense of right and wrong and a determination to be a man of Christian integrity. I liked him immediately, and felt slightly guilty for having been reluctant to help him at first.
By the time we arrived at the clinic, little Joey was sound asleep. I stood guard in the parking lot while Joe went in to get the papers faxed. he was back in less than five minutes, and he gratefully accepted my offer to drive him home. We buckled up, I turned the key in the ignition, and . . . nothing. No revving, not even a sluggish attempt to turn over--just a click.
My first thought was that I didn't have a credit card and that would make getting the car towed a problem. My second thought was: on the one day I have car trouble, God has arranged for a mechanic to be in my back seat. Joe offered to take a look under the hood and had the problem figured out in about a minute. There were some complications in finding an appropriate tool, and little Joey was so excited by our adventure that he bombed his diaper, but before long everything was cleaned up and sorted out, and we were on our way back to Joe's house.
When we arrived, I gave him a little money as a thank you; "It's just a little extra Christmas for the boys," I said when he seemed reluctant to accept it. I hope all was merry and bright in that little house today. I know my Christmas has been better for my having met Joe. I had a plan for how I thought my day would go, and even when I changed my plans I thought I was the one doing Joe a favor. Turns out God had a different plan, and wanted us to be gifts to one another. In the coming year, let's keep our eyes and hearts open to whatever God has in store for us.