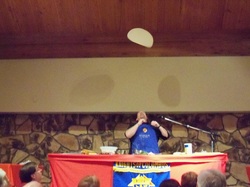 Since Mardi Gras is this Tuesday, I thought I'd share the recipe for Muffaletta Pizza. The Muffaletta is a tradtional New Orleans sandwich invented by Italian immigrants that uses deli meats and provolone topped with a garlic olive salad. Unfortunately, every time I've made it, the pie never stays on the table long enough to get a photo! If you like salty foods, especially olives, you'll love this pizza. The printer friendly recipe is
HERE
.
Muffaletta Pizza (for a 14" to 16" pizza)
¼ cup pizza sauce (optional)
3/4 to 1 cup olive salad (see below)
3 to 4 oz. each cappocola, mortadella, and genoa salami slices, cut into strips
8 to 10 oz. shredded mozzarella and provolone cheese blend
Roll dough out into a 12" to 14" crust with a thicker outer edge. Place on a pizza peel well-dusted with cornmeal; par-bake, if desired. Spread pizza sauce evenly over the crust, if desired. Layer the olive salad, meats and cheese in that order, and bake pizza on a preheated stone at 500 degrees for about 10-12 minutes, or until cheese begins to brown very lightly.
Notes
---The muffaletta is a sandwich made popular in New Orleans by Italian immigrants. Originally the name was associated with a round loaf of bread but has become synonymous with a sandwich made with Italian deli meats and cheeses with a garlic olive salad condiment. ---Another option for the cheese is to take whole round slices of provolone and lay them over the pizza, slightly overlapping, which gives the pie an interesting appearance. Remember that provolone won't brown as much as mozz, so don't overbake.
Olive Salad
¾ cup medium pimiento stuffed green olives
½ cup medium black olives
½ cup Italian mild gardiniera
¼ cup minced red onion
2 tbs. capers, drained
2 or 3 large garlic cloves, mashed and minced
1 Tbs. fresh minced Italian parsley
1 Tbs. fresh minced oregano
½ tsp. red pepper flakes
1 Tbs. balsamic vinegar or red wine vinegar
2 Tbs. olive oil
1 Tbs. grated Parmesan
Drain and coarsely chop the green olives, black olives and gardiniera, and combine them in a bowl. Add remaining ingredients, give it a couple of twists from the pepper mill and toss until blended. Cover bowl and refrigerate until use.
Notes
---This is the traditional condiment on a New Orleans muffaletta sandwich, although some recipes have more ingredients: thinly sliced celery, roasted red peppers, artichoke hearts, etc. I simplified by using gardiniera (an Italian mix of cauliflower, carrots, celery, peppers, etc., usually pickled). You can experiment with whatever is at the market or coming out of your garden at the moment. ---Don't have fresh herbs? Use 1 tsp dried for every Tbs. fresh.