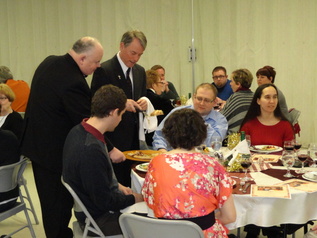 As usual, the K of C boys (and their creative and generous wives) hosted a terrific event last Saturday. Be sure to check out the beautiful table decorations in the photo gallery below---click on any image to see it enlarged.
We served minestrone as the appetizer, then a succession of gourmet pizzas (served by the Knights in their tuxes) paired with some lovely wines.
Pizza Classico
(sausage, pepperoni, and black olives) paired with a Perazzeta Sangiovese
Spinach Pesto Pizza
paired with an
excellent
Seyval Blanc from August Hill Winery in Utica
Italian Beef Pizza paired with a Santa Barbara Collection Pinot Noir.
Parmesan Cream and Scallop Pizza paired with Blue Suede Chardonnay.
Dessert was Tiramisu Trifle (recipe here) paired with Truffle Merlot.
I've done a lot of these pizza events and this one ran the most smoothly. The Knights were wonderfully organized and although the ovens were not the best, the arrangement of the kitchen in relation to the service room kept traffic patterns realtively uncongested. The proceeds from the event are going to a fund to create a memorial the unborn in the local cemetery. Extra special thanks to Jake and Jannelle Kluch who did the bulk of the organization and decorations work.