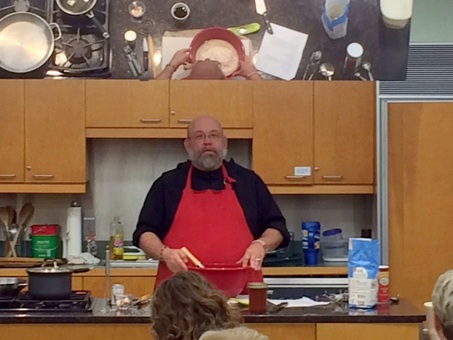 Many people don't realize that the
Kemper Center for Home Gardening
at the Missouri Botanical Gardens in St. Louis has a fine demonstration kitchen. They have cooking classes throughout the year, and every summer for the past few years they've asked me to teach one. I usually arrange for my class to coincide with a Cardinals home stand against the Rockies, so my cousin Chris has a reason to fly out from Denver and be my kitchen angel!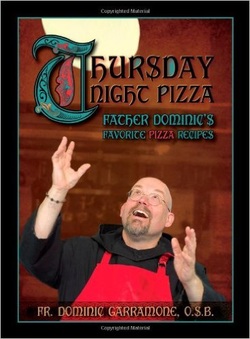 The class was based on my cookbook
Thursday Night Pizza
, although I played around with the dough recipe a bit, using the Italian dough recipe but using bread flour and adding a bit of olive oil. The results were outstanding, if I can say that with even a modicum of modesty---some of the best crusts ever. The recipe is
HERE
. All of the pizzas we made were heavy on the veggie side, and mostly harvested straight from the Gardens the day before, with a little assistance from local farmers' markets. We had two different kinds of eggplant for the Ratatouille Pizza, three kinds of peppers for the Italian Beef Pizza, and a variety of tomatoes for the Four Cheese Tomato Top.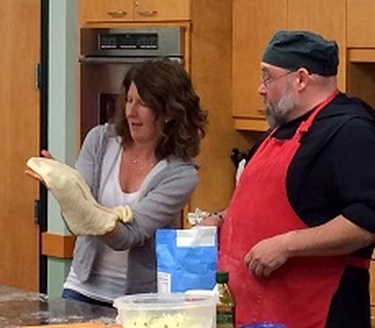 It's not possible to do a "hand-on" class for 30 people, but I try to get a few students involved, including this intrepid Breadhead who attempted pizza crust tossing live and without a net. Using bread flour means that the dough has enough protein to stand up to a few mistakes, and it also adds to the chewiness of the finished product. Using a rolling pin can overwork the dough and result in a flat, dense crust, so if you don't toss you can just spread it out with your fingers.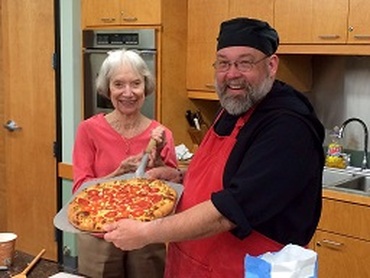 The four cheese tomato top turned out superbly---my favorite pizza of all time---thank to the assistance of this novice pizzaiola. We had fresh oregano and garlic chives from the Gardens to enhance the cheese mixture. The fourth pizza was made with a white wine sauce flavored with fresh thyme, then topped with kale, mushrooms, black olives and goat cheese.
I hope to get back to the Kemper Center in the spring when my breakfast breads cookbook comes out (I already have tentative arrangements with the Missouri History Museum to do some events there as well). Remember to visits the "Events" page to know where I'll be baking next.

God bless and happy baking!