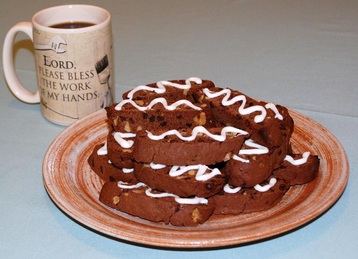 Some friends of mine recently gave me a few pounds of dutch process cocoa powder. In case you don't know, this type of chocolate has been treated with an alkali to neutralize its natural acidity. Because it is neutral and does not react with baking soda, it must be used in recipes calling for baking powder. So I decided to make some biscotti.

The word "biscotti" comes from the Italian for "twice baked," and they were originally developed as a bread or cookie that would keep for a long time, as one might need for a journey or a time of war. They are very hard and crunchy and are traditionally dunked in vin santo (an Italian sweet wine) or coffee. The earliest recipes for them had no fat/oil or sugar in them, and many of these early biscotti were savory rather than sweet. At first pistachios or pine nuts were used, and later almonds, with anise being one of the most popular flavorings for sweet biscotti. I've made them with all sorts of ingredients, from white chocolate chips to dried cranberries to fresh mint. Once you get the simple technique, you'll be drawn to experiment!

The method for making biscotti is not difficult, but it does take some time because of the two baking periods. You can make them without nuts if you prefer. Here's what I did for the ones pictured above.

Double Chocolate Walnut Biscotti
1/3 cup butter, softened
2/3 cup granulated sugar
2 eggs
1 tsp. vanilla extract
1 3/4 cups all-purpose flour
1/3 cup unsweetened cocoa powder
2 teaspoons baking powder
¼ tsp. salt
1/2 cup miniature semisweet chocolate chips
2/3 cup chopped walnuts

Preheat oven to 375 degrees F. Line a 9" x 13" baking sheet with parchment paper. In a medium size bowl, cream together the butter and sugar until light and fluffy (a stand mixer is even better!). Beat in the eggs one at a time, then add the vanilla and mix. In a separate bowl, whisk together the flour, cocoa, baking powder and salt; stir into the sugar mixture until well blended. Mix in the chocolate chips and walnuts---I find it easiest to do this last step by hand with a sturdy spoon.

Divide dough into two equal parts. Shape each part into a 9 x 2 x 1" inch loaf. Place them onto baking sheet, evenly spaced. Bake for 20 minutes in the preheated oven, or until slightly firm to the touch. Cool on the baking sheet for 30 minutes. Discard used parchment and line pan with fresh.

Using a wavy knife, slice the loaves diagonally into 1" slices. Place the slices on their sides on the baking sheet. Bake for 10 to 12 minutes on each side, or until dry ands crisp. Cool completely before storing in an airtight container.

Optional: Melt a couple of squares of almond bark and drizzle on biscotti in a wavy pattern, as pictured.